Baroness Warsi announces cross-Whitehall internship programme
Baroness Warsi, Minister without Portfolio, today launched the Whitehall Internship programme.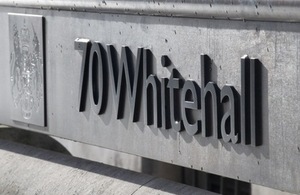 5 April 2011
Baroness Warsi, Minister without Portfolio, today launched the Whitehall Internship programme, as part of the Deputy Prime Minister's social mobility strategy.
The Whitehall Internship Programme will comprise of three complementary internship schemes designed for graduates and undergraduates, college students and secondary students who come from under-represented groups, including Black, Asian and Minority Ethnic (BAME) communities and people from socially disadvantaged backgrounds.
The existing Fast Stream Summer Diversity Internship will be complemented by two further programmes aimed at younger students at critical stages of development in education.
The internship programmes are:
Fast Stream Summer Diversity Internship (undergraduates and graduates): This established scheme is designed to help students develop their skills and career prospects and give a taste of the wide ranging opportunities the Civil Service can offer.
College level (16-17 year olds): This scheme has been designed to offer school leavers two weeks meaningful work experience in the Civil Service. 
Secondary school level (13-14 year olds): This scheme will be a day long programme where students come to Whitehall to meet senior figures and build knowledge of the Civil Service and working in a professional environment.
The schemes will target three critical stages of development in the education process and are designed to raise aspirations and open eyes for young people all over the country. They will also provide meaningful, professional experiences that develop transferable skills which can be harnessed in future life and employment.
The Fast Stream internship programme is already in place and will offer placements across Whitehall and regionally for 2011. The College and secondary schemes will run pilots across the UK this summer. The Government aims to implement the full suite of internship programmes in 2012.
Baroness Warsi, Minister without Portfolio said:
Obtaining an internship often depends on who, rather than what, you know. Many talented young people miss out simply because they lack the necessary contacts or face financial barriers when internships are unpaid.
"I am pleased to announce that today we are delivering on our coalition commitment to provide internships in every Whitehall department for under-represented groups.
"I believe offering work experience and internships to young people will not just help remove artificial barriers to progression, but organisations themselves will benefit from having access to a much wider pool of talent. I am pleased that the Government is leading the way. These internships have been designed for talented students who wouldn't normally have the opportunity to gain experience in a Whitehall department.
"These schemes will give students a real start in life by not only providing skills and experiences that they can draw on when looking for jobs but the programmes will broaden their horizons and raise their aspirations.
Complementing, the new internship schemes, the Government also announced it will bring to an end to informal internships. From 2012, all departments will advertise their schemes on a central Civil Service Internships website and outreach will be undertaken to promote internships and work experience to under-represented groups. There will be a transparent process for all placements, to ensure fair access, creating a more accountable civil service and producing a level playing field.
The Cabinet Office today published a specification document which asks external organisations to bid to become a partner in helping us deliver the Summer 2011 pilot scheme. More details can be found on the Contracts Finder website.
Published 5 April 2011