World news story
Baroness Verma visits Bulgaria to launch UK-Bulgaria Energy Dialogue
The visit will seek to build co-operation and exchange experience between the British and Bulgarian nuclear energy sectors.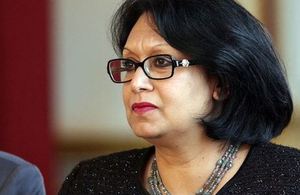 Baroness Verma, the UK's Energy Minister from the Department of Energy and Climate Change, is paying an official visit to Bulgaria from 3-5 March. The visit aims to deepen cooperation on energy issues and exchange experience between the British and Bulgarian nuclear energy sectors, discuss the future and share best practice. During the visit, the UK and Bulgaria will launch a new Energy Dialogue framework for discussing issues of common interest. The Minister will travel with a delegation of business leaders from the civil nuclear and gas and oil sectors, and potential UK business investors.
Baroness Verma will visit Kozluduy Nuclear Power Plant and meet the CEO Ivan Genov. The meeting will give an opportunity to explore possible cooperation in the area of lifetime extension and the best waste management solutions. The Baroness will also take part in marking Kozloduy's 40-year anniversary of its operation by unveiling a commemorative plaque, as well as host a reception for representatives of members of Women in Nuclear Association-Bulgaria and Bulgarian Nuclear Society in Kozloduy.
In Sofia, Baroness Verma will meet the Minister for the Economy and Energy Dragomir Stoynev to discuss the future of Bulgaria's energy supply, in particular nuclear and gas, and the emerging green growth sectors. The Baroness will also co-host with Deputy Energy Minister Ivan Ayolov a "British-Bulgarian Energy Dialogue" roundtable discussion on EU 2030 climate change targets, future energy outlook, diversification, connectivity, and nuclear cooperation. Industry thought-leaders, leading British companies involved in the energy sector, the EBRD, officials from the Ministry of Economy and Energy, Ministry of Environment and Water, Institute for Nuclear Research and Nuclear Energy, Bulgarian Academy of Sciences will be among the participants of the discussion.
The visit will also include a gala reception with Deputy Prime Minister Daniela Bobeva and business leaders at the British Ambassador's Residence in Sofia, as well as a meeting with the Chair of Parliamentary Committee on Energy Ramadan Atalay.
British Ambassador to Bulgaria Jonathan Allen said about the visit:
Baroness Verma's visit to Bulgaria is recognition of the strategic and economic importance of the energy sector in Bulgaria and South-East Europe more widely. We have much on which we agree, including on the importance of ensuring that European regulation does not prevent our countries from enjoying a nuclear future. And there are issues on which we can, and should, work more closely, including on EU emissions targets and energy diversification, in particular of gas supply. The visit is a great opportunity to share experience between the British and Bulgarian energy sectors, and for practical co-operation to be agreed by business and investors.
About Baroness Verma
Baroness Verma was appointed Parliamentary Under Secretary of State for the Department of Energy & Climate Change in September 2012. Prior to that, the Baroness was Spokesperson for Cabinet Office, International Development, Women and Equalities and Business Innovation and Skills.
Baroness Verma is particularly interested in supporting women and gas route projects, as well as farming programmes and education initiatives in rural areas for women and the young that relate to energy.
Published 1 March 2014
Last updated 4 March 2014
+ show all updates
Added translation
Added translation