News story
Baroness Verma comment on Written Ministerial Statement on smart metering
Commenting on today's Written Ministerial Statement on smart metering (10 May), Energy and Climate Change Minister Baroness Verma said: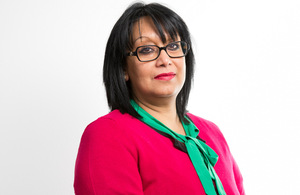 "The Coalition is committed to making smart meters available to everyone as soon as possible.
"I welcome the progress that some energy suppliers have already made in installing smart meters in homes and businesses across Great Britain and want to see that continue. Industry has told us that they expect to roll out in excess of 2 million compliant smart meters to customers over the next two years.
"I have listened to industry and consumers representatives and recognise the enormous challenges involved in delivering the roll-out of smart meters, which includes visits to around 30 million homes and small businesses and installing over 50 million smart meters over the next seven years. I want to ensure that consumers have a good experience of smart metering from day one.
"That's why we are allowing additional time for the energy suppliers to complete the roll-out, so industry has the time to get it right for consumers."
Published 10 May 2013