Press release
Baroness Randerson: "Excellent transport links are vital to grow Welsh tourism industry"
The Welsh tourism industry is a vital part of our economy and we need the right transport infrastructure to support it.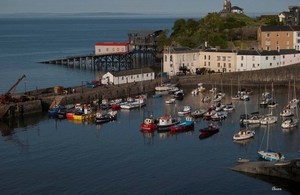 Speaking at an event in London to mark the launch of Wales Tourism Week, the minister said:
Wales has some of the best beaches, landscapes, castles and cuisine in the UK.

Our tourism industry's importance to Wales cannot be overstated and being voted best country in the world to visit by Rough Guide readers was a tremendous endorsement.
Between January and November 2014, 84 million tourism day visits were made by British residents to destinations in Wales, generating spending of £2.5billion. In 2013, there were 121,400 employed in the tourism sector here, an increase of over 9,000 (8%) since 2010.
The minister said that the key to growing the industry is excellent transport infrastructure.
Baroness Randerson:
We need good roads and a strong rail network for the industry to continue to thrive.

The UK Government has already invested in the rail infrastructure but we need to work in partnership with Welsh businesses and the tourism industry to make the improvements needed to grow our economy in the future.
The UK government has committed additional funding to secure the electrification of the main line to Swansea and the Valley Lines. Wales Office Alun Cairns also recently met business leaders in north Wales to discuss the case for the electrification of rail lines there.
Baroness Randerson will be visiting various tourism attractions in Carmarthenshire and Ceredigion later this week to see how this important industry is building a stronger economy.
Published 16 March 2015