News story
Baroness Kramer welcomes start of production on Thameslink trains
Up to 300 jobs created in component manufacturing in the north-east.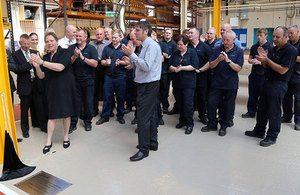 Baroness Kramer visited Tyne and Wear today (24 July 2014) to hear how hundreds of manufacturing jobs will be created in the north-east as part of the government's £6.5 billion Thameslink programme.
Work is underway at the Siemens factory in Hebburn to manufacture high-tech electrical components for a fleet of state-of-the-art Thameslink trains, creating up to 300 local jobs. The spacious new trains will be introduced across London and the South East by 2018, transforming rail travel across the capital and providing faster, more reliable and more comfortable journeys for millions of passengers.
Baroness Kramer said:
The start of production at Hebburn is great news for the region, as well as being a major milestone in the Thameslink project, which is generating more than 8,000 jobs nationwide and will transform travel through central London when it completes in 2018.

The north-east is a real hub of rail industry expertise and through our investment in the Thameslink programme, we are helping to boost that industry, creating hundreds of local jobs, building skills for the future and securing the UK's long-term economic growth.
Over the next 4 years, Siemens will manufacture high-tech electrical parts and other components, including cable harnesses, drivers' instruments and control desks, for more than 1,100 new train carriages. The new electric trains will be faster and more energy-efficient, and will feature more space for passengers and luggage, improved access for people with reduced mobility, and advanced technology providing real-time travel updates to passengers.
In addition to the new rolling stock, the Thameslink Programme will also see major track and station improvements – including the rebuilding of London Bridge – to provide passengers with better connections and a greater choice of destinations. When the project completes in 2018, 24 trains an hour will run in each direction at peak times through central London, providing a high-frequency, metro-style service to increasing numbers of passengers.
The service will be operated by the TSGN franchisee GoVia, who were recently awarded the contract by the Department for Transport. It will provide 1,400 new electric carriages, increasing capacity by 50% and providing 10,000 extra seats every weekday into central London during the morning peak.
Over the next five years, £38 billion will be invested in maintaining and improving the UK's rail network in the biggest programme of modernisation since the Victorian era.
Rail media enquiries
Press enquiries 020 7944 3021
Out of hours 020 7944 4292
Switchboard 0300 330 3000
Published 24 July 2014