News story
Baroness Kramer makes Worcestershire flood recovery visit
Baroness Kramer thanks local representatives for their work during the recent Worcestershire floods.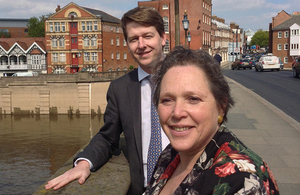 Baroness Kramer has visited Worcestershire to see how the county is recovering from the recent floods.
As the county's Ministerial Representative for Flood Recovery, she met with representatives from the various agencies who worked tirelessly during the flooding, including the Environment Agency and Fire and Rescue, to hear about their experiences.
She also talked with local councillors to ensure that lessons can be learnt for the future. The discussions covered the plans that worked well and what work is in place to improve resilience for the future.
The minister met local MPs who discussed suggestions for long-term infrastructure changes that could be introduced to help prevent disruption to businesses and residents.
Baroness Kramer said:
Flooding in Worcestershire had a devastating effect on many local people. I very much appreciated the opportunity to thank all those who worked so hard to minimise disruption and ensure a return to normal life as quickly as possible.

Worcestershire is open for business as people made very clear to me today. This was also an excellent opportunity to discuss how the area might become more resilient in future.
News desk enquiries
Press enquiries 020 7944 3021
Out of hours 020 7944 4292
Switchboard 0300 330 3000
Published 11 April 2014