News story
Baroness Kramer launches Luton transport scheme
£24 million Luton town centre transport scheme completed.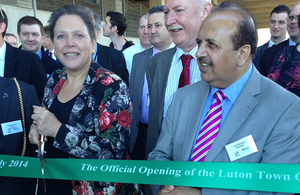 Transport Minister Baroness Kramer was in Luton today (14 July 2014) to open a major transport scheme that will help tackle traffic jams while making the town centre easier to navigate for pedestrians and cyclists.
The £24 million Luton town centre transport scheme has received almost £16 million of government funding. The scheme will help to reduce congestion on the town centre road network and help regenerate the town, encouraging economic growth and inward investment. It will support a number of developments delivering in total some 4,000 new homes and approx 11,700 new jobs.
Baroness Kramer said:
The £16 million we have provided for the inner ring road will help make a real difference to Luton. This new scheme will drive down congestion in the town centre and boost the local economy.
The scheme involves the construction of a new road which completes the 'missing link' of the town centre ring road, serving proposed residential and mixed use development in the east of the town centre and changes to traffic circulation on the north side of the town centre.
Completion of the ring road involves:
construction of a new road between Old Bedford Road and Hitchin Road running adjacent to the railway
improvements to Crescent Road
the dualling of Crawley Green Road over the railway
a new access road from Gillam Street to serve Midland Road
The traffic circulation measures include:
improvements for pedestrian and cycle access into the town centre
the introduction of bus priority measures
closure of Guildford Street to through traffic in order to significantly improve the pedestrian route from the town centre to the rail station and new bus interchange
News desk enquiries
Press enquiries 020 7944 3021
Out of hours 020 7944 4292
Switchboard 0300 330 3000
Published 14 July 2014