Baroness Hanham visits Manchester regeneration projects
Communities Minister Baroness Hanham opened a new wing on 20 January 2011 at the Museum of Science and Industry in Manchester.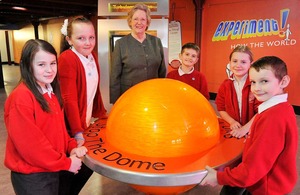 The museum has benefited from £2 million from the European Regional Development Fund (ERDF) to redevelop the building. This was matched by £2 million from central government funds, and a number of private investors also contributed to the project.
At the museum, Lady Hanham toured the new wing which is home to 2 new exhibitions, and met children from Oakfield Primary School at the new and interactive Experiment Science Gallery.
She also spoke to volunteers at a Chinese Community Exhibition, which has 1 of the first community archives in the UK documenting Chinese history and stories of the first settlers.
Baroness Hanham followed this with a tour of 2 further local projects which have also benefited from the Fund. Manchester Metropolitan University supports students and graduates with entrepreneurial ideas, turning them into profit-making enterprises. Marketing firm Delineo have also benefited from a 3 year coaching initiative, the High Growth Programme, which supports budding entrepreneurs and businesses with their ideas to increase their turnover.
The European Regional Development Fund programme in England is supported by matched funding, including from central government, and contributes to hundreds of entrepreneurial, innovative and creative projects across the country, helping to shape communities and create jobs, tourism and local growth.
Communities Minister, Baroness Hanham said:
"We are committed to creating real opportunities for businesses in Manchester. It is easy to see from the entrepreneurs and service users I met what a difference it makes to the individuals and the community. These projects are making great strides in helping the local community and opening up life changing opportunities.
"This funding will contribute to the regeneration of Manchester by helping local businesses to realise their potential innovative ways. As the government moves to cut the deficit, private sector growth is vital, particularly in the small and medium enterprise sectors and these businesses will play an important part in enriching their local area."
David Malpass, Director of European Programme in the north west said:
"I am delighted Baroness Hanham was able to join us today to see first hand how European money is improving the local economy across a number of important sectors. The north west of England has been allocated €755 million from the fund to spend between 2007 and 2013, with the aim to create strong local economies, creating a great place to invest, work, visit and live."
(Photographs courtesy of the North West Development Agency).
Published 25 January 2011