Press release
Baroness Anelay welcomes House of Lords report on Sexual Violence in Conflict
The Prime Minister's Special Representative on Preventing Sexual Violence in Conflict, Baroness Anelay, responds to the House of Lords 2015-16 session report titled Sexual Violence in Conflict: A War of Crime.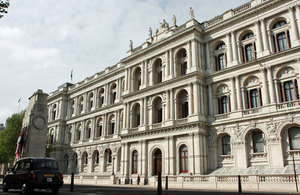 The House of Lords Select Committee on Sexual Violence in Conflict launched their Report for the 2015-16 session today. The report suggests a number of recommendations and calls for the government to continue its work on PSVI. During 2016 the UK, working in partnership with NGO's and other governments, will further build on the extensive progress made to date. This will include challenging harmful attitudes, working to end stigma suffered by many survivors, delivering justice, better access to healthcare and psychosocial support and furthering military training on prevention and response times.
Speaking after the launch of the report Baroness Anelay said:
The Government has led international efforts to end the scourge of sexual violence in conflict and will continue to do so.
We have allocated over £30 million to improve international standards, strengthen how militaries prevent these crimes and ensure survivors receive the support they deserve.
We will consider this report carefully and respond fully in due course.
Further information
Follow Baroness Anelay on Twitter: @JoyceAnelay.
Follow the Foreign Office on Twitter.
Follow the Foreign Office on Facebook & Google+.
Published 12 April 2016