News story
Baroness Anelay marks Holocaust Memorial Day
Foreign Office Human Rights Minister pays tribute to victims and survivors of the Holocaust.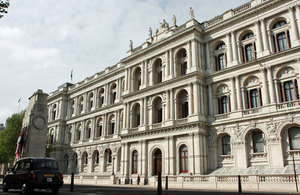 Baroness Anelay said:
Today is Holocaust Memorial Day. On this day we remember the horrors that engulfed the Jewish people and the terrible suffering of the many millions of other victims. We remember those who perished, honour the survivors still with us, some of whom I will have the tremendous honour of meeting later today, and reaffirm humanity's common aspiration for mutual understanding and justice.

The international community shares a solemn responsibility to fight against the evils of genocide, ethnic cleansing, racism, antisemitism and xenophobia. As Chair of the International Holocaust Remembrance Alliance (IHRA) we stand today, 70 years after the liberation of Auschwitz-Birkenau, with the IHRA's 31 member and eight observer countries, together with our seven Permanent International Partners, to reaffirm our strong and unqualified support for our founding document, the Stockholm Declaration of the year 2000, and the solemn commitments which we then undertook.

The unprecedented character of the Holocaust will always hold universal meaning for us. We are committed to remembering and honouring its victims, to upholding the terrible truth of the Holocaust, to standing up against those who distort or deny it and to combatting anti-Semitism, racism and prejudice against the Roma and Sinti.

We are determined to continue to develop our international cooperation on Holocaust education, remembrance and research and the prevention of future genocides, as we plant the seeds of a better future amidst the soil of a bitter past.
Further information
Follow Foreign Office Minister Baroness Anelay on twitter @JoyceAnelay
Follow the Foreign Office on twitter @foreignoffice
Follow the Foreign Office on facebook and Google+
Published 27 January 2015