World news story
Baroness Anelay delivers a statement to the Human Rights Council in Geneva 16 June 2016
Intervention by Baroness Anelay Minister of State at the Foreign and Commonwealth Office on 16 June 2016.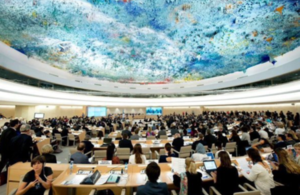 Mr President, High Commissioner, Excellencies, it is a privilege to be back in Geneva for the 10th anniversary of the Human Rights Council. Its establishment was a significant milestone, a history we trace back to the adoption of the Universal Declaration. Now, it is the turn of HRC32 to uphold those universal values and rights.
The shocking events in Orlando this week are a stark reminder that freedoms can never be taken for granted.
We can be proud of the Council's achievements, and its work to reinvigorate and strengthen the United Nations' Human Rights response.
Achievements range from the groundbreaking Universal Periodic Review mechanism, to the work of the Commission of Inquiry on Syria, which has placed the need for accountability at the heart of the UN's response. From securing a consensual resolution on Sri Lanka, to working with Burma on its reform pathway. The Council has worked with all those states that are prepared to reform.
Yet as we mark this first decade and the anniversary of the Optional Protocol to the Convention Against Torture, we must not be complacent. Many of the issues discussed back in 2006 remain pertinent today: violations of freedom of religion or belief; restrictions on human rights defenders; and the constriction of civil society – perversely worse today than a decade ago. The conflict in Syria has continued unabated for more than half of the last decade. It will once again be considered at this session, as the Council confronts one of the root causes of today's migration crisis.
If the first ten years of the Human Rights Council have been about strengthening Human Rights within the United Nations, the next ten must be about the impact it has on the lives of individuals.
We don't have any new tools at our disposal to achieve this goal, but I ask you to consider: can we use our existing mechanisms better? This means supporting Special Procedures and independent experts. Also keeping the number of resolutions in check. This will ensure our focus remains on those subject to, and at risk of, the worst violations and abuses. Those most vulnerable at times of conflict.
We must also strengthen our early warning capacity, so we can prevent violations from happening rather than just deal with the consequences. We must make sure our working methods are fit for purpose, so we can take robust action when necessary. Not only in other countries, but also at home, when we fall short of the standards we promote as states and institutions.
Gender Equality must be an important part of this, and I welcome this Council's focus on women and girls. First, because women and girls are among those most risk at of violations and abuse. Secondly, because societies and economies can only reach their full potential when women participate fully.
As the UK Prime Minister's Special Representative for Preventing Sexual Violence in Conflict, I have seen the impact of abuse on women and girls.
Let us shoulder our responsibilities to end the use of sexual violence in conflict. We must challenge gender norms that allow violence to take place and survivors to be stigmatised. We need to build the capacity of security forces to prevent abuse from happening, and to prosecute perpetrators if it does.
Empowering women is too important an issue to be left to chance. I urge you to join me in promoting women's full participation and leadership in political and economic life. Only by working together and adopting a comprehensive approach can we make a difference. You can start by joining me at the "Power of Empowered Women" event which will take place shortly in room 18. We will explore what we can do to make gender parity a reality.
The Council's work has only just started. The Sustainable Development Goals give us an opportunity to ensure human rights are at the heart of the UN's response to the challenges ahead of us. Let's start by ensuring this session will be remembered for its achievements. To all those individuals facing the worst abuses and violations, I say to you that the world is watching, and will take action.
Published 16 June 2016
Last updated 17 June 2016
+ show all updates
Slightly amended in line with the statement as delivered.
First published.