News story
Banks boost UK jobs with new apprenticeships
High street banks will create new apprenticeship schemes and offer more places to young people.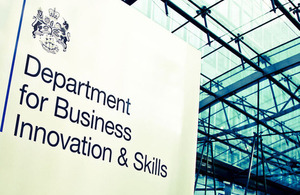 The announcements were made at a financial services sector roundtable, held at HSBC in Canary Wharf, as part of National Apprenticeship Week. The focus was on the creation of new apprenticeship routes into employment.
Banks taking part include:
Barclays - 1000 new apprenticeships across England and Wales with a major programme in April
HSBC - an extra 688 apprentices bringing the total number of employees within its apprenticeship scheme to 1,000 by the end of 2012
Santander to launch an apprenticeship scheme that will see up to 50 people offered places at the bank
Speaking at the event, Skills Minister John Hayes said:
"I am delighted that these banks are investing in apprenticeships which will help them secure the high-quality skills they need to create economic growth and provide new pathways to excellence for the brightest and best young people.
"Creating a highly skilled workforce that can take on the best in the world means seeing apprenticeships as an access route to the professions."
Apprenticeships UK
Published 8 February 2012