Banks boost UK jobs and skills market with the creation of over 1,000 new apprenticeships
The announcements were made during National Apprenticeship Week.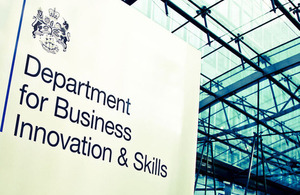 The announcements were made during National Apprenticeship Week at a financial services sector roundtable, held at HSBC in Canary Wharf, to look at the creation of new apprenticeship routes into employment.
Banks announcing plans to further engage with the government's educational and back to work reforms include:
Barclays will create 1,000 new apprenticeships across England and Wales with a major programme launching in April
HSBC will create an extra 688 apprentices bringing the total number of employees within its apprenticeship scheme to 1,000 by the end of 2012
Santander will launch an apprenticeship scheme that will see up to 50 people offered places at the bank
Speaking from the breakfast roundtable at HSBC, Skills Minister John Hayes said:
I am delighted that these banks are investing in apprenticeships which will help them secure the high-quality skills they need to create economic growth and provide new pathways to excellence for the brightest and best young people.

Creating a highly skilled workforce that can take on the best in the world means seeing apprenticeships as an access route to the professions.
Antony Jenkins, Chief Executive of Barclays Retail and Business Banking, said:
Tackling youth unemployment is one of the biggest challenges facing the UK economy. As a large employer we want to create opportunities which raise young people's skills and aspirations, and help them to support future prosperity.

We are really excited about this programme because it will give many young people their vital first job opportunity, which they can then go on to develop into rewarding long-term careers.
John Morewood, head of Apprenticeships at HSBC commented:
Apprenticeships complement our graduate schemes and help us continue our journey of professionalising our workforce.

For many employees who wouldn't have had the chance to gain a professional qualification, apprenticeships will give them increased skills and career opportunities as well as a nationally recognised qualification.

Driving up the capability of our employees is a key element of our Strategy.

Furthermore, HSBC aims to have 1,000 employees within its apprenticeship scheme by the end of 2012.
Cameron Bird, Resourcing Director, Santander UK today said:
Santander welcomes the government's efforts to develop a new generation of apprenticeship schemes that will support young people into work and meet the needs of British businesses for skilled, motivated employees.

In 2012, Santander will launch an apprenticeship scheme that will see up to 50 people offered places at the bank. The scheme will provide both internal and external applicants the benefits of a formal work-based training programme which will lead to a recognised qualification. Both school leavers and older applicants looking for a new career will be eligible for a Santander Apprenticeship.
Data released on 31 January confirms record growth in apprenticeship starts, with 457,200 starting an apprenticeship in the full 2010 to 2011 academic year. This represents a 63.5% increase on 2009 to 2010 figures. Growth took place at all levels of learning, for all age groups, and across all sectors and all regions. According to the National Audit Office, every £1 of public investment in apprenticeships delivers a return of £18 to the wider economy.
Notes to editors
On Tuesday the Prime Minister announced round 2 of the Higher Apprenticeship Fund which will support thousands of apprenticeships up to degree equivalent, helping deliver the world class skills firms need to drive growth.

The Prime Minister also opened the bidding for the new Employer Ownership pilot, inviting employers in England to apply to access up to £250m of public investment and secure more control over how skills training is designed and delivered.

He also announced that from this week, small firms will be offered an incentive of £1,500 to hire their first young apprentices. This is expected to support up to 40,000 new apprenticeships over the next year.

Successful applicants to the Barclays Apprenticeship programme will receive 12 months training and support and progress to a permanent position. During their training, apprentices will also work to achieve a competency qualification in Financial Services similar to an NVQ, a BTEC Award in Customer Service, and qualifications in numeracy and literacy.

BIS's online newsroom contains the latest press notices, speeches, as well as video and images for download. It also features an up to date list of BIS press office contacts. See http://www.bis.gov.uk/newsroom for more information.
Published 8 February 2012