News story
Bank of England proposals to bolster transparency and accountability welcomed by Chancellor
Chancellor welcomes Mark Carney's proposals to strengthen transparency and accountability of the Bank of England.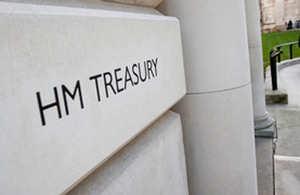 Chancellor of the Exchequer, George Osborne has today welcomed Mark Carney's proposals to strengthen transparency and accountability of the Bank of England, and the recommendations of the Warsh review to improve decision making and transparency of the Monetary Policy Committee.
The Chancellor said:
Ensuring the Bank is well positioned to fulfil its vital role of overseeing monetary policy and financial stability is a key part of the government's long term economic plan.

I'd like to join the Governor in thanking Kevin Warsh for his work on the review of the MPC's processes. Mr Warsh's recommendations will put our monetary policy making at the forefront of international best practice and reinforce its critical role in supporting the economy as the government delivers on its commitment for necessary fiscal consolidation.

I also support the Bank's response to the Warsh Review, in particular its decision to publish the minutes of MPC meetings and, in relevant months, the Inflation Report at the same time as the policy decision. This is an important step in further enhancing the effectiveness of MPC communication and its transparency.

Changes to the schedule of MPC meetings to move to 8 evenly spaced meetings a year and 4 joint FPC-MPC meetings are an important improvement to the policy making process, and I will consider amending the Bank of England Act in the next Parliament to enable the MPC to move to 8 meetings a year, implementing the proposals in full.

I also welcome proposals put forward by the Bank to improve its transparency and accountability processes. Through the Financial Services Act 2012, we have made fundamental changes to our financial regulatory system, dismantling the failed tri-partite system, and expanding the role of the Bank of England to include oversight of the UK financial system as a whole through the Financial Policy Committee, and oversight of prudential regulation through the Prudential Regulation Authority.

The government recognises these expanded responsibilities require the Bank to be held to the highest standards for transparency, accountability and governance. The Financial Services Act 2012 implemented a transformation in this regard and the Government remains open to suggestions aimed at continuing our reforms and ensuring the Bank remains at the cutting edge when it comes to governance. I will consider the Bank's proposals in full early in the next Parliament as part of a post-legislative review of the Financial Services Act 2012.
Published 11 December 2014