Bangkok 'Tense and unpredictable'
Ambassador to Thailand urges British nationals to avoid demonstrations in central Bangkok where there is a risk of further violent disturbances.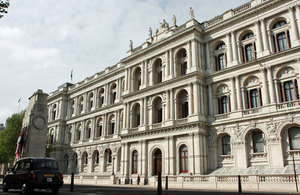 Speaking on BBC news this morning, HM Ambassador Quinton Quayle said: "The key piece of advice that we are providing is to advise British nationals first of all that they should avoid all but essential travel to Bangkok and if you are here really consider whether it is essential for you to be travelling around the city in the current environment."
"We do have a team here in the Embassy and I'm one of them, who are monitoring the situation, providing advice to the British community, updating our travel advice and generally trying to follow what is a fairly unpredictable and tense situation with outbreaks of violence happening in various parts of Bangkok."
The British Embassy in Bangkok is closed to the public today due to its proximity to demonstrations in the capital. We will continue to monitor developments in Bangkok to provide British nationals with the most up-to-date information. If you are in Thailand and require consular assistance you should call the Embassy phone line on 02 305 8333, which will continue to be staffed at all times. We will keep the situation under review.
On 13 May the Thai Government's Centre for the Resolution of Emergency Situations (CRES) announced that it would take measures to increase the pressure on the red shirt demonstrators currently located around the Ratchaprasong intersection in central Bangkok.
For further information, see the Foreign Office travel advice for Thailand.
Published 14 May 2010