Bahrain: "We urge all sides to avoid violence and the police to exercise restraint"
"We have conveyed our concern about these events and the level of violence to the Government of Bahrain." said Foreign Secretary William Hague.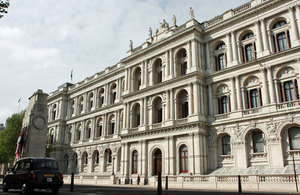 In a statement to Parliament the Foreign Secretary said:
"Last night at approximately 0330 local time Bahrain police moved into the Pearl Roundabout area of Bahrain's capital city Manama to clear an encampment of protesters.
The Bahraini Ministry of Interior claim that the protestors were asked to move before force was used. Other reports say that the police moved in without warning using tear gas and rubber bullets.
Two people are apparently confirmed dead and there are reports of further casualties.
The police and Bahrain Defence Force have moved to secure the key areas in Bahrain, particularly around the Pearl Roundabout, Manama, and neighbouring districts.
This morning there are further reports of sporadic clashes and unconfirmed reports of further deaths.
There has also been a large gathering outside the hospital where the injured and casualties were taken.
Traffic is severely disrupted in Manama, and reports of stock-pile shopping. There are no reports of other areas to the west and south of Bahrain being affected.
We are not aware of any UK nationals having been caught up in the violence so far. We are advising all British nationals to stay away from protests and to avoid all but essential travel around Bahrain. The airport in Manama continues to function normally, but we will of course keep this situation under review and ensure that British nationals in Bahrain receive full consular support.
Mr Speaker, we have conveyed our concern about these events and the level of violence to the Government of Bahrain. This morning I have spoken to the Bahraini Foreign Minister and our Ambassador has spoken to the Bahraini Minister of the Interior last night to stress the need for peaceful action to address the concerns of protestors, the importance of respect for the right to peaceful protest and for freedom of expression. It is also essential that all those injured have immediate access to medical treatment. We also urge all sides to avoid violence and the police to exercise restraint. The Bahraini Government should move quickly to carry out its commitment to a transparent investigation into earlier deaths and extends this to include today's events and any alleged human rights abuses.
I said to the Foreign Minister of Bahrain that this is an opportunity to build bridges between religious communities in Bahrain and to encourage dialogue with protestors. We strongly oppose any interference in the affairs of Bahrain by other nations, or any action to inflame sectarian tensions between Bahrain's Sunni and Shia communities.
We also recognise that Bahrain has made important political reforms alongside its growing economic success in recent years. We have strongly welcomed such steps within the content of the long friendship between Bahrain and the UK under successive governments. I was assured in Bahrain last week that the government intends to build on these reforms. We will always encourage Bahrain and other countries to take further steps that meet legitimate aspirations for greater political and social freedoms.
As I said in my statement on Monday, Britain will continue to send a constant message to governments of the region about how important it is to move in the direction of more open and flexible political systems and sound economic development, while always respecting the different cultures, histories and tradition of each nation.
Published 17 February 2011