Press release
Backing for home-based business boom
Budding entrepreneurs will be given greater freedom to start and grow a business from their home.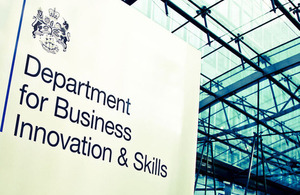 government announces new package to support home-based entrepreneurs
2.9 million home-based businesses in the UK contribute £300 billion to the economy
Enterprise Nation to undertake in-depth research into Britain's booming home businesses
Budding entrepreneurs will be given greater freedom to start and grow a business from their home under new measures announced by the government today (15 August 2014).
Around 70% of new businesses start off in the home, and they contribute £300 billion to the economy. As part of its long-term economic plan to back businesses, the government wants to make it much easier for people thinking of starting a home business to do so with the law firmly on their side.
The new measures announced today include:
new legislation will make it easier for people to run a business from a rented home. The law will be changed so that landlords can be assured that agreeing to this will not undermine their residential tenancy agreement. A new model tenancy agreement will also be made available shortly
updated planning guidance makes it clear that planning permission should not normally be needed to run a business from your home
new business rates guidance clarifies that in the majority of circumstances home-based businesses will not attract business rates
The Business Minister Matthew Hancock announced the package at the first ever Home Business Summit, organised by the small business network Enterprise Nation, at the Enterprise Wing of Somerset House in London today (15 August 2014).
Business Minister Matthew Hancock said:
There's never been a better time to start a business, and even more people are choosing to start up from home.

It's this spirit of personal endeavour and self-determination that is driving our economic recovery. But home businesses don't just fire up the economic engines and create jobs, they turn dormitory towns into living communities, they keep our streets safer, and by driving down car emissions, cleaner too.

We know that starting up any business can also be hugely stressful and that's why today I am announcing that the government will change the law to make life easier for Britain's home businesses. We'll give people the confidence they need to run a business from a rented home, making sure that the majority of home businesses are exempt from business rates and our aspiring entrepreneurs have the information they need to start up and grow.
Emma Jones MBE, founder of Enterprise Nation said:
The home is now the most popular place to start and grow a business. One in 10 domestic properties are now home to at least 1 business and they already contribute £300 billion to the British economy.

These are not people starting businesses out of necessity through lack of jobs, they are part of a growing movement that is responding to the new opportunities technology brings and actively taking control of their own destiny by starting out from home.

They are hard-working people who now have the capability to trade globally from their own kitchen table. They are growing through outsourcing work to other home-based individuals and as they do so, they are bringing important employment opportunities to rural as well as urban areas of Britain.
Liz Peace Chief Executive of the British Property Federation said:
The British Property Federation firmly supports the government's will to remove unnecessary barriers to setting up a business at home. At least some of the 'kitchen table' businesses of today will expand and become the commercial property space-seekers of tomorrow. We therefore have an interest in ensuring that the law and our sector is adapting to modern business practice and supporting UK entrepreneurs at every stage of their business development.
Enterprise Nation is also today launching a new in-depth study to shine a light on the motivations and ambitions of entrepreneurs running home businesses. The results will be published later this year.
Notes to Editors:
There are already 2.9 million businesses being run from entrepreneurs' homes (BIS Business Population Estimates and BIS Small Business Survey).
Home-based businesses contribute £300 billion in annual turnover to the UK economy (BIS Business Population Estimates and BIS Small Business Survey).
If 1 in 10 home businesses took on just 1 extra employee it would create 300,000 jobs (BIS Business Population Estimates and BIS Small Business Survey).
The updated planning and business rates guidance will be available on www.gov.uk/bis.
Case studies:
There is no such thing as a typical or average home business. They range from the professional services like accountants, to creative industries like children's books and fashion, to manufacturers of frozen baby food. They fall into 2 broad types:
Those where the production or service occurs in the home. An example is Thread Squirrel – a luxury embroidery business set up by Tracey Marshall in her home in Pudsey last year and now has customers across the world.

Those where the work occurs away from the home but with the home serving as the administrative base. An example of this is Paperboy Wallpaper, which is run from Victoria Cramsie's home in Bath but uses third-party printers to manufacture wallpaper. Her business produces wallpaper aimed specifically at boys and she is now competing with the likes of Laura Ashley and Sanderson. Recent data from BIS suggest that around 38%, over 1 million home businesses fall into this category.
Jayne Hynes, founder of www.kiddyum.com (Manchester)
A former chartered surveyor and mum of 2 who spotted a gap in the baby food market, is about to launch her own range of healthy frozen baby and infant food into Sainsbury's stores across the UK. This enterprise started and continues to be run from the kitchen table at her Manchester home.
Based in Cumbria where he lives with his wife and daughter, Jorrit is the former MD of local lakes outdoor firm Kangol but gave up work for a year when he was 40. A backpacker at heart, he decided to set up his own company manufacturing eco-friendly bags for outdoor and travel enthusiasts. His business, Millican, is set in the heart of the Lake District and sells around the world.
A converted garage in Dorset is home to a former pharmacist who runs The Travelwrap Company around a husband and 6 children. The product, a luxury Scottish cashmere travel wrap is being sold globally online.
Will Butler-Adams, Managing Director of Brompton Bicycle
The first Brompton bike was designed in a flat overlooking the Brompton Oratory in Kensington. Today, we make more than 50,000 bikes a year and export to over 44 territories worldwide. It's great that new support is now available to help people with a vision and ambition to follow in Brompton's footsteps and start and grow a business from home.
Shaun Pulfrey, CEO Tangle Teezer Limited said:
Tangle Teezer was a business that began from my home in Brixton, and it was a great way to keep costs low when I was starting out. That was in 2007 and now we export to over 80 markets worldwide, from China to Mexico. I welcome any support that makes it easier for more people to start and grow a business from home, just like we've done.
Judy Heminsley, author of 'Work from Home Wisdom' said:
Since I started writing about working from home 6 years ago there has been enormous progress - co-working spaces and cafes provide alternative places to work, internet access has improved, the old stigma of home-based business has disappeared. This is a sea change in the way we work and I'm glad to see home workers recognised and supported.
Professor Colin Mason, Adam Smith Business School, University of Glasgow (co-author of the most authoritative survey of UK home-based businesses) said:
For too long home based-businesses have been regarded as being of no economic significance, or are simply ignored. This needs to change. The majority of small businesses operate from home. Home-based businesses make a significant economic contribution; indeed, a significant minority sell abroad. And they have a positive impact on the economic and social vitality of their local communities. It is therefore a positive step that government is putting policies into place that gives legitimacy to home-based businesses, removes unnecessary barriers and enables the sector to flourish.
Chris Baister, Economy and Enterprise Manager, Horsham District Council said:
For over a decade Horsham District Council has played an important part in raising the profile of home business and encouraged and supported them through organising annual Microbiz events. We most welcome this move from government that will shine a spotlight on what is an important and growing sector of the economy.
Sir Michael Snyder, Senior Partner of Kingston Smith LLP and co-chair of the Professional and Business Services Council said:
The package of measures introduced by government will assist the many home businesses which offer professional and business services. Such an initiative reaffirms the government's commitment to making it easier for smaller businesses, which provide the UK's future economic growth, to start up and succeed, particularly as people switch careers or develop new skills. In providing this support, we are on the right track to developing sustainable growth.
Published 15 August 2014