'Backdoor' bin charging not allowed
The Coalition government has reminded local councils not to exceed their legal powers by imposing 'backdoor' bin taxes.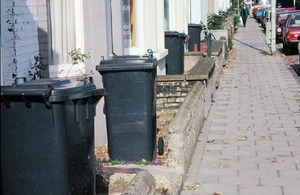 In a joint letter to all councils, Environment Minister Lord Henley and Local Government Minister Bob Neill raise serious concerns that, through the Waste Review being carried out it has become clear that a small minority of councils are seeking to charge for bin bags or for the collection of normal household rubbish. Councils were accordingly reminded of the law and instructed to stop the spread of such practice.
The letter states: "councils cannot introduce 'backdoor' bin charging for mainstream waste collections or waste disposal. Such stealth taxes are not legal and are contrary to the policy direction of the new government."
Section 45 (3) of the Environmental Protection Act 1990 specifically bars local authorities from making a charge for the collection of household waste, except in cases prescribed in regulations.
The Localism Bill is ending the legislation which allowed for the introduction and roll-out of new taxes for the collection of household bins. The new government has also cancelled the pilot schemes for these new bin taxes.
Eric Pickles, Secretary of State for Communities and Local Government said:
We are stopping municipal officials from levying unfair backdoor bin taxes. Families pay £120 a month in council tax - they deserve a comprehensive and frequent bin collection service in return without bin bag charges on top. Bin charging harms the environment by rewarding fly-tipping and backyard burning.
Caroline Spelman, Secretary of State for Environment, Food & Rural Affairs added:
We want it to make it as easy as possible for people to do the right thing and dispose of their waste responsibly. Measures such as additional charging or petty officialdom simply make life difficult for hard-pressed families and pose additional threats to the environment from fly tipping and other socially irresponsible behaviour.
Councils were also informed that as part of the Waste Review, due to report in May, the government is reviewing the enforcement powers and penalties available to local authorities in relation to waste collection and disposal, to ensure that they are proportionate, relevant and respect civil liberties.
The review is looking at how it can work with local councils to increase the frequency and quality of rubbish collections and make it easier to recycle, to tackle measures which encourage councils specifically to cut the scope of collections; and to address public concerns over the civil liberty aspects of inappropriate enforcement practices associated with household collections.
Published 11 April 2011