Back from Libya naval aircrew prepare for Afghanistan
Having helped pave the way for vital aircraft strikes against Colonel Gaddafi's forces in Libya, personnel from 857 Naval Air Squadron (NAS) are now preparing to return to Afghanistan.
The crews from Royal Naval Air Station (RNAS) Culdrose in Cornwall will perform the similar role of 'preparing the battlespace' for joint forces in Afghanistan as they have just done in Libya.
857 NAS touched down at RNAS Culdrose in Cornwall in September 2011, after four months away flying over Libya in support of NATO operations enforcing United Nations Security Council Resolution 1973. See Related News for more on this.
The squadron will soon return to Afghanistan to relieve sister squadron 854 NAS for another tour of duty on the front line.
They are now training for the environmental and operational conditions they will face on this land-based deployment, building on their previous experience flying in the desert over very hostile territory.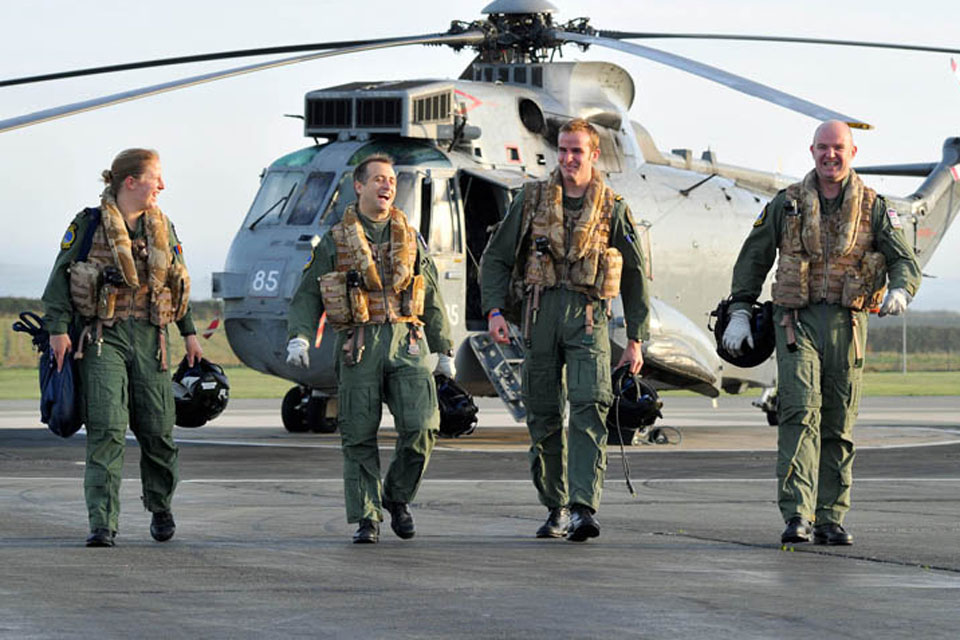 Commanding Officer of RNAS Culdrose, Captain Toby Williamson, is very proud of his Culdrose-based team and how personnel are coping with the operational tempo. He said:
There is no let up for the Sea King Force. As soon as the fighting stopped in Libya, the Sea Kings from Royal Naval Air Station Culdrose were already preparing to return to Afghanistan.
They can be immensely proud of their involvement in Operation ELLAMY because their hard work has contributed to the liberty of the Libyan people.
However, now the team must turn their attention to another war zone and apply their expertise to surveillance activities across the land in Afghanistan.
Here our Sea King squadrons continue to make a real difference. Since 2009 they have proved to be essential in the ongoing fight against the insurgents, enabling the discovery of significant amounts of IED-making equipment, arms and drugs.
857 and 854 Naval Air Squadrons continue to perform admirably against a variety of conditions, from land and sea. Such is the nature of the Royal Navy's flying force; we are agile, versatile and making a difference.
Published 4 November 2011