Baby friendly Britain possible through neighbourhood planning
Planning Minister Greg Clark backs ITV Daybreak's campaign to make a Baby Friendly Britain.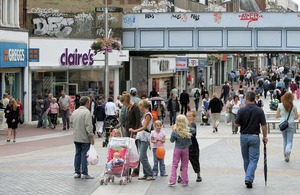 Parents who are behind the campaign have a real chance of making a difference if they get involved in neighbourhood planning, Greg Clark has told the programme.
The minister, who is backing TV presenter Katy Hill's bid to get more child parent parking spaces and better access to shops, says reforms to the planning system will give parents strong new powers that could go a long way to making England much more baby friendly.
Neighbourhood Planning will enable people to come together to decide what their area should look like, where new shops, offices or homes should go and what green spaces should be protected. Plans could decide the types of parking spaces stores have and influence shop design.
Mr Clark said:
"Parent child parking is the kind of thing that gets forgotten when supermarkets and shopping precincts are planned yet mums and dads know how important it is. I think parents should get the right to say what a car park should be like before it's built, before it's too late. And the new planning system will allow that.
"Through neighbourhood planning, people will be able to sit down before any development takes place and say exactly what is important to them. If having enough parent child places in a car park is a priority then they can insist this is addressed and any new plan for a supermarket or shops in their area will have to take account of this. This goes for access to shops too. Parents will have real influence in the future."
A survey commissioned by Daybreak found 75% of parents wanted better pushchair access to shops and more parking enforcement to stop misuse of parent child parking bays.
For mums and dads eager to make changes now, the minister advises parents write to their councillors and local store managers to ensure that when the car park is next painted more parent child bays are considered, and to contact stores if they are frustrated that enforcement of bays is not adequate.
Published 11 February 2011