Press release
Babies to be protected against common diarrhoea bug
Thousands of young children will be spared hospital stays and hundreds of thousands of GP visits caused by diarrhoea thanks to a new vaccination programme, announced today by the Department of Health.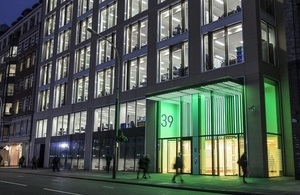 The programme, which is planned to begin in September next year, will see children under four months vaccinated against rotavirus - a highly infectious bug that causes around 140,000 diarrhoea cases a year in under fives. It leads to hospital stays for nearly one in ten - around 14,000 - of those who get it in theUK.
It is estimated that the vaccine will halve the number of vomiting and diarrhoea cases caused by rotavirus and there could be 70 per cent fewer hospital stays as a result.
Rotavirus vaccines, including the Rotarix vaccine which will be used in theUK, are already used to routinely vaccinate children in theUSand many other countries. In theUS, studies have shown that rotavirus-related hospital admissions for young children have been cut by more than two thirds since rotavirus vaccination was introduced.
Professor David Salisbury, Director of Immunisation said:
"Rotavirus spreads very easily and affects around 140,000 children every year, causing distress for them and their families. Many people think of diarrhoea as something that all children get and that you have to put up with. But there is a way to protect children from this. I'd encourage all parents of young children to accept this vaccine when the programme begins next year."
The decision comes after the experts on the Joint Committee on Vaccination and Immunisation (JCVI) concluded that the health benefit of vaccination means it is a cost effective way of protecting children against rotavirus. 
The programme is expected to cost around £25 million a year but is expected to save the NHS around £20 million per year through fewer stays in hospital, fewer GP and A&E visits and fewer calls to NHS Direct. 
Around 840,000 infants in theUKunder four months will be offered the vaccine. The programme, which is planned to begin from September 2013, cannot start straight away because it takes months for vaccine suppliers to manufacture enough vaccine to meet a country's needs. The vaccine will be given orally as two separate doses of liquid drops to all children starting when they are two months old.
Chief Medical Officer Dame Sally Davies said:
"It is upsetting to see our children ill in hospital. Rotavirus is the most common cause of diarrhoea in young children and this vaccine will protect our children and reduce hospital admissions for serious rotavirus infection."
The NHS Commissioning Board, which will be operational from April 2013, will become responsible for delivering the rotavirus vaccination programme. The programme will be carefully monitored by Public HealthEngland, which the Health Protection Agency (HPA) will become part of from April 2013, and the Medicines and Healthcare products Regulatory Agency (MHRA).
Notes to Editors
The vaccine will be given to infants in two separate doses with the other routine vaccines when children are two months old, then again at three months. The vaccine has been extensively tested when given simultaneously with other routine vaccines. It is given by mouth as drops.
Symptoms
Rotavirus can be a serious illness in the very young. **
Gastroenteritis usually begins with the symptoms of diarrhoea and is sometimes accompanied by vomiting. A child may also have a fever (high temperature) of 38C (100.4F) or above and/or a tummy ache.
The symptoms of diarrhoea usually pass within five to seven days. Most children's diarrhoea symptoms will not last more than two weeks.
Very young children have the highest risk of severe complications which can results in severe dehydration and can even lead to death in a very small number of cases.
The symptoms can be treated with rehydration solutions available from pharmacies.
Vaccine
The Rotarix vaccine is manufactured by GSK.
Published 10 November 2012