World news story
Away Day in the SOS Childrens' Village in Lekenik
Embassy staff spent a day together helping with painting and repairs in the Village providing care for children without parental care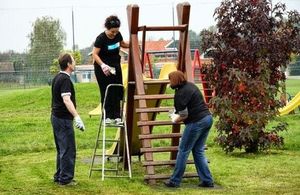 For our Away Day this year, when Embassy staff spend time together outside the office on team-building, we went to the SOS Childrens' Village in Lekenik, to help with painting and repairs. We greatly admire the work, dedication and care the SOS Village has provided to children without parents and parental care for 21 years now. Nearly 100 children are being raised in the Village by a devoted team of SOS 'Mothers' and other staff.
Accompanied by our regular handymen, we painted the interior of one of 17 houses in the Village. The house, called Lotus, is home to five children, the youngest of which is only 2-years old. We also removed old paint from the swings, see-saws and climbing frames in the play park and painted them in new colours. Four boys from the Village joined us to help with the work in the play park and one of them left this message as we were departing: ''For us too, it was the best visit ever. Please come again next year! I promise that I will take care of the things that we have painted!'' It warmed our hearts.
Ambassador David Slinn said:
A day's work was our modest gesture to help those who do not enjoy the privileges that most of us take for granted.
The SOS Village in Lekenik is a member of SOS Kinderdorf International, the world's largest NGO in the field of child and youth care. The first SOS Village was founded and built by Hermann Gmeiner in 1949. Today, there are 533 Children's Villages around the world. The idea is to include the child into an association as close to being in a family as possible. SOS 'Mothers' are given a certain number of children into their care and they live in a house as a family, sharing love and responsibilities.
We are glad that we have been able to help in our own small way too. We would like to thank the carpenters, Stolarija Svilić, and interior decorators Hamdija Ljevakovic and Interijeri Zagi. If you would like to help the SOS Village, please visit SOS Village.
Published 6 October 2014