Award for Shujaaz - a comic with serious messages
At a ceremony in London last night Shujaaz - a multimedia project partly funded by DFID - was announced as this year's recipient of the One World Media Special Award.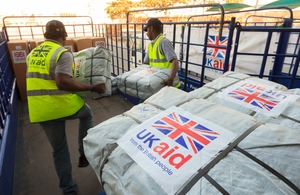 The One World Media Awards recognise excellence in the UK media's coverage of the developing world. The Special award is presented for an outstanding project working on the ground in the developing world, where media activity has made a real impact on people's lives.
Shujaaz is an innovative multimedia youth communication initiative which combines 600,000 monthly free comics, daily broadcasts on 22 syndicated radio stations and social media to engage with young people in Kenya.
It features a huge range of issues which are designed to help young people improve their lives. Some of these have been ideas for making money out of agricultural innovation - funded by DFID through Research Into Use. Other stories have looked at tackling tribalism and the aftermath of the post-election violence, governance, micro enterprise and broader human rights. Support for the project draws together both private sector and international development funding.
International Development Minister Alan Duncan attended the awards ceremony last night. He said:
"Shujaaz is an incredibly effective way of communicating information to young Kenyans and their families, including poor farmers often in remote areas. It has provided vital guidance on farming techniques that can directly improve people's lives, with stories ranging from ways of preventing livestock disease through to how to improve crop yield. I'm delighted that it has won."
Rob Burnet, the social entrepreneur behind Shujaaz, said:
"Shujaaz features four young Kenyans whose stories evolve each month as they engage with a range of social issues and ideas to help them get on in the world. We deliberately merge facts and fiction so that we can cover hard hitting material using advocates that our young audience have grown to trust and respect. Our regular readership is now around 6 million and judging by the text and Facebook messages we get each day we are making a real difference.
"Winning the One World Media Award is fantastic validation of the impact Shujaaz is having on the lives of millions of young Kenyans. It has been a huge amount of work to create East Africa's largest circulation publication in just over 12 months…but it has been worth it."
The One World Media awards will be broadcast on the BBC World News channel on Saturday 14 May.
Published 11 May 2011