Press release
Average earners could gain up to £100k in new pension charges reform
Helping ensure value for money in workplace pensions – safeguarding against high and unfair charges and transferring around £200m to savers.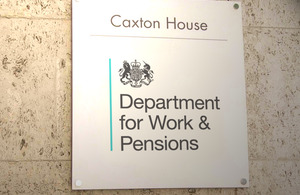 Minister for Pensions, Steve Webb, set out today (4 February 2015) how from April 2015, people automatically enrolled into a workplace pension will see their charges capped at 0.75%, unless they have chosen a more expensive option. The details are set out in draft regulations laid before Parliament today.
For an average earner currently paying into a fund with a charge of 1.5%, this new cap could save them around £100,000 over the course of their working life.
Over the next decade, the default fund charge cap will transfer around £200 million from the pensions industry to savers.
Minister for Pensions Steve Webb said:
Today is an excellent day for pension savers. It is vital that workplace pension schemes are run in the interests of their members and that their hard-earned savings are not eaten away by excessive charges.

Over 5 million people have now been automatically enrolled into a workplace pension and by 2018, millions more will be saving for the first time, or saving more. This is why we are building a pensions system that these workers can save into with confidence – and not see their money disappear in opaque charging structures.

There is an understandable buzz around what April will bring for those retiring now, with the unprecedented pension freedoms coming in. But these reforms show we are also determined to help the pensioners of tomorrow – people working hard and saving hard for their families' future.
Regulations are being laid today alongside the government's response to its consultation Better workplace pensions: Putting savers' interests first.
The Financial Conduct Authority will also be making corresponding rules to control charges and introducing Independent Governance Committees for workplace personal pension schemes from April 2015.
Their rules, together with today's regulations, will ensure that savers are protected regardless of the type of workplace pension they are saving into.
Subject to Parliamentary approval, these draft regulations will be a major step towards ensuring a positive outcome for millions of people in retirement.
The next stage of the government's work to ensure full disclosure of costs and charges throughout the value chain is also set out in today's paper – with the plan to publish a joint call for evidence with the Financial Conduct Authority in spring 2015.
Background
The updated draft regulations, to be laid before Parliament today, subject to Parliamentary approval, will mainly come in to force on 6 April 2015.
Read today's Written Statement on better workplace pensions made by the Minister for Pensions, Steve Webb.
Contact Press Office
Media enquiries for this press release – 020 3267 5123
Press Office
Caxton House
Tothill Street
London
SW1H 9NA
London Press Office (national media and London area enquiries only – not questions about personal claims) 020 3267 5144
Out-of-hours (journalists only) 076 59 108 883
England and Wales (local media enquiries) 029 20 586 then 097 or 098 or 099
Scotland (local media enquiries) 0131 310 1122
Follow DWP on:
Published 4 February 2015