Australian Gunners receive Afghanistan medals in Colchester
Australian Gunners who 'fired side by side' with the British Artillery in southern Afghanistan have received their campaign medals during a ceremony at Colchester's Merville Barracks.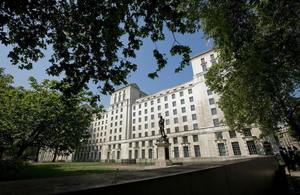 A total of 15 Gunners from 105 Battery, 1st Field Regiment, Royal Regiment of Australian Artillery, based in Brisbane, completed a six-month tour in Helmand province alongside Colchester-based 7th Parachute Regiment Royal Horse Artillery (7 Para RHA).
7 Para RHA was on parade at Merville Barracks on Tuesday 12 April as the Australians received their medals from Brigadier James Chiswell, Commander of 16 Air Assault Brigade.
Speaking of the contribution made by the Australian Gunners, Brigadier Chiswell said:
I am immensely grateful for the fantastic support and commitment you have given to the brigade. There is a strong bond between the UK and Australia, which you have shown to be unbreakable during the course of operations in Afghanistan.
Lieutenant Colonel Gary Wilkinson, Commanding Officer of 7 Para RHA, presented each of the Australian Gunners with an engraved shell case as a memento of their time with the unit. He said:
We have fired side by side, with the only difference between us being the accent and uniform.
In Afghanistan you were based in many different locations and personnel configurations, but you have always served with great fighting spirit, determination and professionalism.
The Australians arrived in Colchester in February 2010 after completing a six-month training package in Australia. They went on to complete conversion training to enable them to use British equipment, including the L118 Light Gun, and then completed the usual six-month British pre-deployment training.
In total they have been away from Australia for 14 months, which contingent commander Captain Mike Cook said had been a 'real challenge':
We have had to adapt ourselves to a new culture, but the lads have integrated themselves very well and had a very friendly welcome from 7 Para RHA.
It was a difficult time when Brisbane was flooded in January. I was home on R&R [Rest and Recuperation] and spent most of the time in the car with my emergency kit, wife and cat. It gave me the opportunity to see what was happening and give a genuine insight to the guys when I got back to Afghanistan. Our families were really well looked after through the tour by our welfare teams.
Sergeant Major Paul Chapman, from Australia's Gold Coast, said:
It's been a great tour for me, as I've finally been able to do my core business of firing guns on an operational deployment after 22 years in the Army.
There's been a great amount of banter between us and the Brits. One particular incident stands out when we were playing cricket and then called on to fire the guns. The chat stopped and straight away everyone was pulling together to do their job.
It's a very proud moment to receive this medal, particularly with the Brigadier presenting it and showing his personal appreciation.
Bombardier Christopher Reeves, from Brisbane, said:
It's been a really challenging and interesting experience to work with the British, who are a great bunch of blokes.
Our drills are similar but just slightly different and it was great to have six months together to get everything just right before we deployed and everything worked really well in Afghanistan.
I've been to East Timor on operations twice, but this tour has given me the chance to fire guns in anger, which is what I joined up for.
105 Battery is the sixth and final contingent of Australian Gunners to serve with their British counterparts in Afghanistan. The arrangement started in 2008 with Darwin-based 8th/12th Medium Regiment, Royal Australian Artillery, serving alongside 7 Para RHA. It is coming to an end as the Australian Army focuses on re-equipping its artillery with new guns.
Published 14 April 2011