Aung San Suu Kyi praises UK aid in Burma
Aung San Suu Kyi praised the work of DFID in Burma during a high-profile visit to a UK funded project on Tuesday.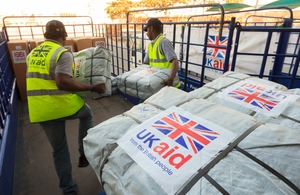 Following a request to see British aid in action, DFID Burma took her to see a project we are funding to help change the lives of more than 5,000 families in the country. 
Tens of thousands of people lined the route that she travelled, cheering, throwing flowers and holding up banners saying 'Our Hero, Our Leader'.  The visit - her first to see development work in the country since her release.
Speaking after the visit, 'The Lady' said she was pleased to see the progress that was being made in the villages she had visited and talked of the need to meet the basic needs such as water in the area, as well as to empower communities to lead their own development. 
Welcoming the visit, International Development Secretary Andrew Mitchell said:
"It was an honour to meet Aung San Suu Kyi during my visit to Burma last November. I'm delighted she has visited a DFID supported project to see at first hand the real difference British aid is making to people's lives.
"I look forward to continuing to work closely with Aung San Suu Kyi and all those working for further reform in Burma to ensure our aid delivers the best possible results."
Daw Aung San Suu Kyi visited two villages in Myaing Township where British aid is supporting local NGOs to develop the rural economy and empower communities.
She saw how work that the UK is supporting through a multidonor livelihoods fund had improved basic infrastructure and provided community-managed credit and training to improve agricultural techniques.
Building growth and raising incomes in the rural areas of Burma - where 70% of Burmese live and where agriculture still lags behind other countries in the region - is a key focus of DFID's work in Burma.
Specific results UK aid will deliver include giving 110,000 more women access to financial services to help them buy food, send their children to school and meet their medical needs and supporting 92,000 people to increase the amount of food they are able to produce to eat or sell.
Villagers showed Daw Aung San Suu Kyi how aid had helped provide water taps for every village household, seeds and tools to plant home gardens and support and training for other local initiatives. Daw Suu Kyi also met with women members of a self-help group, who showed how they had invested their own and project resources to improve conditions in the village.
Published 2 February 2012