News story
ATOL overhaul underway as government plans to extend holiday scheme to millions
Up to 6 million extra holidays could be covered by the ATOL scheme via reform proposals forwarded for consultation by Theresa Villiers.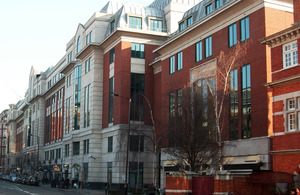 The biggest overhaul of financial protection for holidaymakers in more than a decade officially got underway today (23 June 2011). Up to 6 million extra holidays could be covered by the Air Travel Operators' Licence (ATOL) scheme under the reform proposals put forward for consultation by Aviation Minister Theresa Villiers.
Introduced over 40 years ago, the ATOL scheme offers financial protection for those booking a package holiday - enabling travellers to complete their holiday or receive a refund in the event of their holiday company becoming insolvent. However, changes in the way holidays are booked since the scheme was first introduced mean there are now many holidays available which look like packages but fall outside the existing legislation, leading to confusion amongst passengers over their level of protection.
The reforms are also intended to put the ATOL fund back on a financially sustainable basis, removing the need for the taxpayer support currently given via a government guarantee.
Aviation Minister Theresa Villiers said:
As we move into the busy summer period, millions of us will be heading abroad on holiday. While the chances of a holiday company going under are thankfully very low, the impact on those affected can be significant. Recent years have highlighted not only how important financial protection is to holidaymakers, but also the fact that the ATOL scheme is in urgent need of reform.

We have always been clear about our commitment to modernising the ATOL scheme, and these proposals are an important step towards achieving just that. As well as ensuring up to 6 million additional holidays are protected, these proposals will help steer the scheme's finances on to a more sustainable path for the future. We are also making an important step forward on the debate on delivering a wider reform of ATOL in the future.
Civil Aviation Authority Chair Dame Deidre Hutton said:
The CAA welcomes the reform proposals because they will bring clarity for consumers and put an end to the situation where people are left unsure to what extent their holidays are protected if their company fails. Today's announcement will empower consumers to make informed choices about their air holidays. This is the first step in the reform of consumer financial protection and the CAA will be consulting on further proposals on the funding of protection in the autumn.
Today's consultation - which closes on 15 September - follows an announcement in February which outlined the approach the government would take to reforming the ATOL scheme. The proposals put forward today confirm the commitment to improve clarity for consumers and address the scheme's finances by:
extend the ATOL scheme to "flight-plus" holidays comprising a flight and other holiday component bought within 2 successive days
ensure everyone booking ATOL protected holidays will get a recognisable ATOL certificate confirming their rights under the scheme for refunds and repatriation should their travel company fail
helping ensure that 'agent for the consumer' businesses arranging holidays are fully aware of their legal responsibilities to consumers
Subject to the responses received, the government aims to respond to the consultation in the autumn, with a view to introducing the necessary legislation by January 2012 to capture the peak holiday-booking period for next summer.
The consultation also paves the way for further potential reforms to the ATOL scheme in the medium to longer term, seeking initial views to inform more detailed work to be undertaken by the Civil Aviation Authority later in the year. Views are also being sought on potential reforms which would require primary legislation. These could include bringing holiday sales by airlines into the scheme along with those arranged on an 'agent for the consumer' basis.
Further information
ATOL is a scheme that protects consumers on package holidays and some flights from the insolvency of their tour operator or travel agent. It is run by the Civil Aviation Authority.
In 2010 over 190,000 holidaymakers were repatriated or received full refunds when their ATOL tour operator went bust.
Most businesses selling package holidays including a flight have to have an ATOL licence issued by the CAA. Businesses pay £2.50 for each booking into a Fund that meets the costs of refunds and repatriations. The fund is currently operating at a deficit, and relies on a government guarantee, currently £42 million, to access commercial borrowing facilities to meet its obligations.
The ATOL scheme was first put in place on a statutory basis in the early 1970s. It was last substantially overhauled in 1995.
Airlines are legally exempt from the requirement to hold an ATOL, however any package holidays they sell must still be financially protected. A number of UK airlines have subsequently set up subsidiary companies to sell package holidays that do have an ATOL licence.
Legally, businesses are required to have an ATOL licence if they sell package holidays or certain 'flight only' tickets to customers. Some businesses, however, do not technically 'sell' the flight element of a holiday, instead they buy it on behalf of the customer. This arrangement, referred to here as 'agent for the customer', does not require an ATOL licence.
Customers buying a flight and accommodation in this way are not therefore protected by the ATOL scheme, but may be unaware of this.
Aviation and maritime media enquiries
Media enquiries 020 7944 3021
Out of hours media enquiries 020 7944 4292
Switchboard 0300 330 3000
Published 23 June 2011