World news story
Athletes shared their experience after taking part in London 2012
To mark the anniversary of the Olympic Games, British Embassy asked two of the most successful Uruguayan athletes to share their experience.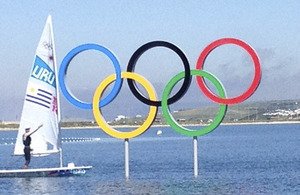 The yachtsman Alejandro Foglia said that the Games were an important milestone in his career as an athlete and praised the Olympic facilities.
"It was really nice for me and my family to participate in the Olympic Games, because I was able to share this experience with my sister Andrea, who also competed in London 2012.
The Olympic Games meant a "great jump" in my career as an athlete; I reached the Medal Race and the second position for the first time and I received the Olympic Diploma. It was also the first time that a sailing regatta was streamed live in Uruguay, which was historic for the country.
One of the things that drew my attention was the Medical Centre in Weymouth, with specialists who took care of the athletes with all the necessary resources. This helped me a lot after the regattas, because I was able to recover quickly for the next day".
The runner Deborah Rodríguez also shared her memories and highlighted that London 2012 was the best experience of her life.
"I had been waiting to compete in the Olympic Games since I was a child, and I had the chance to be there with the greatest athletes, having the possibility to meet people, friends and colleagues.
I had the opportunity to be there and socialize, compete, train, focus and prepare well. London 2012 was without any doubt the best experience of my life, and I liked it so much that I want to repeat it.
It helped me to grow and mature and I also realised that I had the support of many people, who are currently accompanying and following me.
Being in London 2012 also made me realise that sometimes, beyond the results, the most important thing is to remain true to your principles and to share, love and give everything until the end.
I think that one of the essential objectives in the creation of the Olympic Games is the union, peace and love".
Published 29 July 2013