Astrophysicist Giovanna Tinetti on science and the UK
In a Foreign Office film launched today the Italian astrophysicist talks about Britain's open culture which helps attract the best talent from around the world.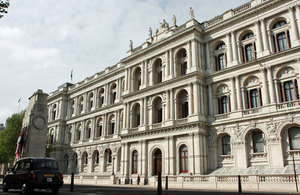 The film is one of the 'See Britain through my eyes' series featuring individuals from abroad looking at modern Britain in the run up to the London 2012 Olympic and Paralympic Games.
Giovanna is widely respected in the astrophysics field. She has worked in both the US and Europe and is a lecturer at University College London. She believes the UK's ability to harness the best from the past while looking to the future has created the perfect conditions for great scientific innovation.
When she moved to the UK, Giovanna was struck by how international and open the culture is. She believes the UK's multicultural society helps attract talent from all over the world and its meritocratic culture helps ensure people are rewarded for hard work. Giovanna finds the UK university model strikes the right balance between competition and co-operation.
Giovanna studied at the University of Turin and was awarded her PHD in 2001. Since then she has enjoyed fellowships at the European Space Agency and NASA.
The Italian Society of Physics awarded her the best young Italian physicist in 1999 and she has gone on to win many prizes culminating in 2009 with the NASA Group Achievement Award alongside colleagues Mark Swain and Gautum Vasisht .
Giovanna is also a research fellow at the Royal Society in London, one of the world's oldest scientific academies. The institution marks its 350th anniversary this year. The Royal Society is a fellowship of around 1450 individuals representing all areas of science, engineering and medicine. It champions the development and use of science, mathematics, engineering and medicine for the benefit of all across the world, including industry.
The London Olympic Games will run from 27 July 2012 until 12 August 2012.
Published 4 October 2010