News story
Association of Colleges and CCS develop strategic relationship
The Association of Colleges and CCS have established a partnership to develop a solution for sourcing regulated qualifications.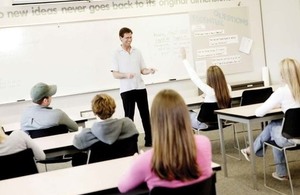 The strategic partnership will develop a compliant solution for the sourcing of regulated qualifications and services, in response to the new public procurement directives which for the first time require colleges to comply with more rigorous public procurement procedures.
The signing of a memorandum of understanding (MoU), which sets out the key principles of the strategic relationship, signals a commitment by the 2 organisations to work together to design and implement a procurement strategy that will provide access to a compliant, collaborative and centralised contracting route to market.
Sally Collier, Chief Executive of CCS said "The MoU between AoC and CCS demonstrates the commitment from both organisations to work together for the benefit of the further education sector to deliver a compliant route to market, with potential savings of up to £30 million for college stakeholders, by operating in an efficient and collaborative manner."
Martin Doel, Chief Executive of AoC added "We believe this agreement will enable colleges to have fair access to a selection of qualifications and they will also benefit from competitive pricing and efficient processes."
In a step to strengthen the work done so far, and to build on the successful collaborative approach, Crescent Purchasing Consortium (CPC) will also be joining the project.
Together, the organisations will deliver efficiencies through the elimination of non-value adding activities and the streamlining of back office business processes.
Find out more about the procurement for Awarding Organisations
Published 27 October 2015