Assembly of new Royal Navy aircraft carriers gets underway in Fife
The event, held at Babcock's shipyard in Rosyth, marked the official start of the assembly of the first of the two 65,000-tonne vessels - the…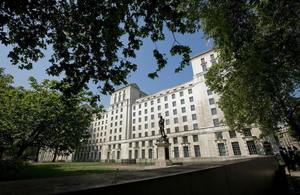 The event, held at Babcock's shipyard in Rosyth, marked the official start of the assembly of the first of the two 65,000-tonne vessels - the largest warships ever built for the Royal Navy.
It will be followed by the first major lift in the programme later this week when the first section of the two-deck-high 8,000-tonne centre block, which includes a section of flight deck, will be lifted onto the seven-deck-high 8,000-tonne lower block 03, marking a major milestone in the build of the first of class, HMS Queen Elizabeth.
After touring the dockyard and meeting the workforce, Mr Luff said:
This is an exciting week for the carrier programme and it is a huge privilege to witness what can only be described as history in the making.
The job of building these truly formidable carriers is a huge challenge but we are very fortunate to have such a dedicated and skilled workforce who can rise to this challenge and provide the UK with its largest and most powerful aircraft carriers to date.
The vessels are being delivered by the Aircraft Carrier Alliance made up of the MOD, Babcock, BAE Systems and Thales, and, with advanced construction underway at six shipyards across the UK, the Queen Elizabeth Class aircraft carrier programme is sustaining thousands of skilled jobs throughout industry.
Chief of Defence Materiel, Bernard Gray, said:
The Queen Elizabeth Class is a hugely important project for MOD and for the UK's shipbuilding industry. I'm very pleased at this impressive progress on the construction and assembly of first of class.
The Queen Elizabeth Class carriers will be the centrepiece of Britain's military capability and will routinely operate 12 of the carrier-variant Joint Strike Fighter jets, allowing for unparalleled interoperability with allied forces.
Each carrier will have nine decks, plus a flight deck the size of three football pitches, and two propellers weighing 33 tonnes - nearly two-and-a-half times as heavy as a double-decker bus - driving the ship at a maximum speed of over 25 knots (46km/h).
The vessels will form the cornerstone of Britain's ability to project military power overseas, and will be used for operations ranging from providing air support in conflict zones to providing humanitarian aid and disaster relief.
Published 21 September 2011