Press release
Aspiring entrepreneurs helped to kick-start more than 32,000 new businesses
The New Enterprise Allowance has helped enterprising jobseekers set up 32,520 new businesses.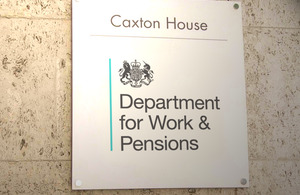 From 'Tasty Pastry' to 'Gadget Cabin' – enterprising jobseekers have set up 32,520 new businesses thanks to a government scheme that helps unemployed people turn their dreams of becoming their own boss into a reality.
The New Enterprise Allowance (NEA) has been behind a wide range of new ventures since it was introduced in 2011, and new figures today (15 December 2013) show around 2000 new businesses are being set up every month.
The news of these successes follows the recent announcement that, as part of the government's long-term plan to secure Britain's economy, the popular scheme will be extended until 2016 – offering thousands more people the chance to benefit from the opportunity to get off benefits, start their own business, and support themselves and their families.
The NEA offers expert mentoring and financial support to jobseekers who want to start up their own business, helping people who have previously been on benefits turn their business ideas into successful enterprises.
Today's figures also show that beneficiaries of the scheme come from all ages, with 7,500 businesses started by people aged 50 or over.
Almost 6,000 disabled people were also helped by the scheme to become their own boss.
Minister for Employment Esther McVey said:
Starting your own business takes guts and passion. We're seeing tens of thousands of people coming off benefits to set up their own company and creating a new enterprise generation. You also need support and advice if you are to turn your ideas into a successful business, which is what New Enterprise Allowance provides.

With the economy growing, small businesses are vital to the continuing success of the country, so it's great that we have been able to extend the New Enterprise Allowance until 2016 in order to help even more budding entrepreneurs achieve their dream of being their own boss.
Case studies
'Fruits of the florist' Clare Kilcoyne, 42, Yorks and Humber
When Clare was made redundant in June this year she decided to look at the option of starting up her own business.
She had recently attended a class creating unusual fruit bouquets and wanted to put the skills she had developed to good use.
Her Jobcentre Plus adviser encouraged the idea, especially as there was no one else providing this type of unique product locally and referred her to the NEA scheme to get her business idea off the ground.
Thanks to Clare's determination and drive she launched her business 'Fruits of the florist' a week after joining the New Enterprise Allowance (NEA) scheme.
The concept involves creating bouquets of fruit and decorated chocolate and also fruit displays for weddings and events.
Clare said:
I noticed a gap in the market and decided to take the opportunity. The NEA scheme helped me get the business off the ground and it's doing really well. The product is unusual, eye catching and offers a fun alternative to the usual floral bouquet. I've exhibited at several events including the Robert Fuller Gallery and I supply a large hotel chain with personalised gifts.
'Rent Referee', Chris Carbery
A Liverpool-based entrepreneur has turned his bad landlord experience into a thriving new online business.
Chris Carbery launched Rent Referee earlier this year, with help from NEA. His online service advertises properties for landlords and letting agents. He also acts impartially to provide information for both tenants and landlords, so they can find more about each other before entering into a tenancy agreement.
Prior to launching the service, Chris had his own encounter with a troublesome landlord. When his tenancy agreement ended, Chris had great difficulty in getting his deposit back. Amid drawn-out proceedings, he recognised that there was little help available to protect tenants from unscrupulous property owners and set about developing an idea to combat this scenario.
Chris said:
While there were 1 or 2 forums available for landlords to warn others against certain tenants, I found nothing that allowed tenants to have their say on landlords. The concept for my site was simple enough – to house both conversations in one place, so decent tenants could find decent landlords. I also wanted to set up a community forum too, where frequently asked questions could be answered.
Chris set up the Rent Referee website by himself, without any formal business advice during the recession. And when he realised he needed additional expertise, he turned to his Jobcentre Plus personal adviser who suggested that the NEA might provide the advice and training he needed.
Chris continued:
My NEA business adviser was a great support with developing the brand. I already had the website in place but her help in getting a decent business plan in place and advice on the legal structure of the business was invaluable to me as a new business owner. The training workshops were a vital help too.

I'm only a few months into trading, but already there has been a lot of traffic to the site. I've even been approached by the BBC to feature in an upcoming documentary, which will be great for raising the business profile. Having ready access to on-going support from my adviser is a great reassurance too.
More information
Read the full breakdown of NEA statistics – April 2011 to August 2013
Contact Press Office
Media enquiries for this press release – 0203 267 5106
Press Office
Caxton House
Tothill Street
London
SW1H 9NA
London Press Office (national media and London area enquiries only – not questions about personal claims) 020 3267 5144
Out-of-hours (journalists only) 076 59 108 883
England and Wales (local media enquiries) 029 20 586 then 097 or 098 or 099
Scotland (local media enquiries) 0131 310 1122
Follow DWP on:
Published 15 December 2013