Press release
Ash disease found in Devon
A further case of the tree disease Chalara, also known as ash dieback, has been confirmed in a woodland in Devon.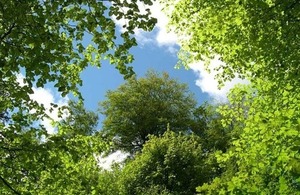 Devon is the 11th county in England where Chalara has been discovered in the wider environment (forests and woodland); the other counties are Norfolk, Suffolk, Essex, Cambridgeshire, Kent, Surrey, West Sussex, East Sussex, Lincolnshire and Northumberland.
The disease has now been confirmed in 525 sites including 185 locations in the wider environment. Chalara was discovered in England's woodland last Autumn as a result of the intensive survey carried out of sites across the UK where ash trees are known to be present. As the trees are leafing, it is easier to see cases of Chalara and further sites are likely to be identified.
Martin Ward, Chief Plant Health Officer said:
We expected to see new cases as the leaves came through on ash trees. The better informed we are, the more effective we can be in our work to slow the spread and reduce the impact of this disease and we will be investigating this new case closely.
As part of the Government's plan to manage Chalara, published in March, work is ongoing to identify genetic resistance in ash trees. A quarter of a million saplings have been planted in East Anglia to expose them to Chalara and they will be monitored to see which ones show signs of resisting the disease. This work complements research being undertaken in the laboratory to isolate a Chalara-resistant genome.
Later this month Defra is hosting a summit to discuss how we collectively respond to the recommendations made in the report from the independent Tree Health and Plant Biosecurity Expert Task Force published in May.
The ash tree is a native British species of tree, providing around five percent of all woodland cover. Chalara is a serious disease that has affected a high proportion of ash trees in northern Europe and which was confirmed as present in nursery stock in the UK in early 2012.
A map showing all locations with confirmed cases of Chalara is available at - www.forestry.gov.uk/chalara.
Published 4 July 2013