Artillery competition trains gunners for rapid reaction role
Colchester-based 7th Parachute Regiment Royal Horse Artillery (7 Para RHA) held a best gun detachment competition last week at Warcop, in Cumbria…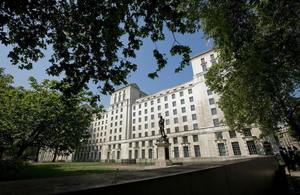 Colchester-based 7th Parachute Regiment Royal Horse Artillery (7 Para RHA) held a best gun detachment competition last week at Warcop, in Cumbria, to test the full range of their skills as gunners first and infantry soldiers second.
As well as the key artillery skills of accurate live firing and safe movement of the 105mm L118 Light Gun, the competing gun detachments were tested on their first aid, vehicle recovery, rifle shooting and fitness.
Lieutenant Colonel Gary Wilkinson, Commanding Officer of 7 Para RHA, said:
This competition has enabled the gun crews to demonstrate all of the abilities and attributes expected of the modern day field gunner, showing their robustness, technical competence, resilience, determination, flexibility and basic soldiering skills.
It has been tough, but has proved that our soldiers are more than up to the challenge of anything that is thrown at them. This versatility is a vital attribute for all of our soldiers and officers as we train to meet future operational demands.
Two six-man detachments from each of the unit's three gun batteries took part in the competition.
Detachment commander Sergeant Lee Soper said:
There's always healthy rivalry between the gun teams, and the competition has been a great way to test everyone's skills.

As we train for our rapid response role, we're really going back to what 7 Para RHA is all about. It's back to basics gunnery - shooting and moving and living out of our vehicles - rather than working from fixed locations as we have been on recent operations in Afghanistan.
The competition marked the start of Exercise EAGLES RESOLVE 12, which involves training to maintain 7 Para RHA's skills as part of the Airborne Task Force (ABTF). The ABTF sees 16 Air Assault Brigade maintain a force ready to deploy anywhere in the world at short notice.
7 Para RHA provides a gun battery and fire support teams, who work with infantry on the ground to co-ordinate artillery, fast air and attack helicopter support.
The exercise, taking place in Otterburn, Northumberland, will see 7 Para RHA fine tune its core skills of identifying and engaging targets.
Lt Col Wilkinson said:
It will be a robust, challenging, sophisticated and highly rewarding exercise for all involved.
Published 20 February 2012