Arrests fall at football grounds
Arrests for football-related disorder fell by 10 per cent last season, Home Office Minister James Brokenshire announced today.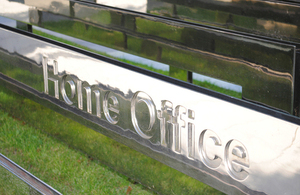 The figures for the 2009/10 football season cover arrests of English and Welsh fans at all international and domestic games including this year's world cup tournament in South Africa where there were no arrests of English or Welsh fans.
During the season 3,391 people were arrested, a fall of 395 compared to the 2008/09 season. This equates to an average of one arrest per match with no arrests at 70 per cent of games.
A decade after their introduction football banning orders continue to have a positive effect. Since 2000 approximately 92 per cent of people whose orders have expired are assessed by police as no longer posing a risk of football disorder.  The number of football banning orders issued in 2009/10 has increased from 3,180 on 10 November 2009 to 3,248 on 19 November 2010.
Crime Prevention Minister James Brokenshire said: 'The contrast between South Africa 2010 and Euro 2000 could not be greater - no football-related arrests at the World Cup compared to nearly 950 hooligans being expelled from Belgium in one night.  There are many factors behind this and the greatest credit must go to the fans.'
'But I want to see them continue to build on that good behaviour. We must also applaud the work of police in making football a safer environment for all.  Nobody is complacent though, police will continue to work with fans and use all the tools at their disposal to ensure that we continue setting a benchmark for the world.'
Assistant Chief Constable Andy Holt, Association of Chief Police Officers lead on football policing, said: 'This continuing trend towards less football related violence is a testament to both fans of the game and the work of the police.  Over the past 20 years the UK has made steady progress in eradicating the behaviour of those intent on football-related violence and disorder.'
'Less than 10 per cent of those who are issued with banning orders re-offend, so this legislation is proven to be effective and the service will continue to work with clubs and the Football Association to use these powers appropriately.  Week in, week out, millions of people attend games and enjoy football in the UK without incident and this has also been reflected abroad, particularly at the World Cup in South Africa.  The service continues to work to stop hooligans and disorder from disrupting the vast majority of people who want to enjoy this sport.'
With a total attendance of 37 million at regulated matches in England and Wales those arrested represent less than 0.01 per cent of all spectators. Fans' good behaviour continued overseas with just 12 arrests from an estimated 90,000 people travelling abroad to European fixtures.
Note to editors
View the football-related arrests and banning orders for season 2009/10, which contains a full club-by-club breakdown. 
Statistics cover all arrests designated in law under schedule 1 of the Football Spectators Act 1989 (as amended) reported by police to the Football Banning Orders Authority. This includes football specific offences (for example throwing missiles in a stadium, pitch encroachment) and a wide range of generic criminal offences committed in connection with a football match. This is any arrest at any place within a period of 24 hours either side of a match.
Football banning orders were introduced to prevent known football hooligans from causing further trouble at home and abroad. Bans last between three and ten years and the precise conditions can be tailored on a case-by-case basis. If necessary, the courts  can ban recipients from using public transport on match days, and from visiting other potential 'hotspots', such as town centres, pubs and bars during risk periods.
The total number of football banning orders includes 956 new orders. Orders are time limited and can expire during a season. 
For more information, contact the Home Office Press Office  on 020 7035 3535.
Published 29 November 2010