World news story
Arrest of General Karenzi Karake in London
We can confirm that General Emmanuel Karenzi Karake was arrested by the Metropolitan Police on 20 June on behalf of the authorities in Spain.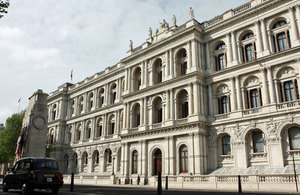 This was a legal obligation, following the issue of a valid European Arrest Warrant.
The UK has been a close partner in Rwanda's remarkable progress since the horrific events of the genocide in 1994. The UK has a strong and effective aid partnership with the Government of Rwanda.
We co-operate closely on a growing range of regional and international issues. Her Majesty's Government greatly values the close relationship with Rwanda and is committed to that relationship for the long term.
Follow our news:
For further information contact:
Published 23 June 2015