ARRC honours soldiers home from Afghanistan
The Allied Rapid Reaction Corps (ARRC) honoured more than 160 soldiers recently returned from a six-month deployment to Afghanistan with a parade and medal ceremony earlier this week.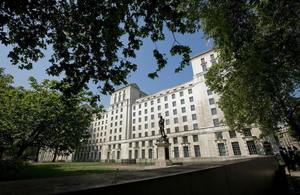 The soldiers are assigned to the ARRC's Support Battalion and served in a wide variety of roles while deployed to Afghanistan, such as providing infantry forces, searching for improvised explosive devices, and partnering and mentoring the Afghan National Security Forces.
The day's events included a regimental medal parade through the streets of Tewkesbury, followed by the consecration of the battalion's memorial wall and the presentation of campaign medals to the unit's personnel at Imjin Barracks in Innsworth.
All three events were presided over by His Royal Highness The Duke of Gloucester.
The Tewkesbury parade began at 1200hrs at the Boat House in the north end of town and proceeded down the town's High Street to Tewkesbury Abbey.
During the parade, which included a 36-piece military band from the British Army's Parachute Regiment, a salute was taken outside Tewkesbury Abbey by the Duke of Gloucester in his role as Deputy Colonel-in-Chief of the Royal Logistic Corps.
Thousands of people lined the streets along the parade's route to cheer the soldiers on as they marched.
After the salute, a civic reception hosted by Tewkesbury Borough Council took place in Abbey House. This event afforded the Duke of Gloucester the opportunity to meet with the families of four soldiers who died in earlier deployments with the battalion, as well as other local dignitaries.
Later in the afternoon, the battalion conducted a ceremony to consecrate their memorial wall, located in front of the battalion's headquarters building in Imjin Barracks, which was followed by a medal presentation ceremony, during which the recently deployed soldiers received medals and ribbons for their service in support of operations in Afghanistan.
Many of the medals were presented by the Duke of Gloucester.
During the ceremony, the family of an ARRC Support Battalion soldier previously killed in combat, Corporal G K Sheppard, received an Elizabeth Cross.
The Elizabeth Cross is a commemorative emblem given to the recognised next of kin of members of the British Armed Forces killed in action or as a result of a terrorist attack since the Second World War. It bears the name of the current British monarch.
HQ ARRC is a NATO rapid deployment corps headquarters, founded in 1992 in Germany and headquartered in Gloucestershire since August 2010.
The ARRC is scheduled to play a key role in the NATO Response Force in 2013.
Although HQ ARRC's 'framework nation' is the United Kingdom, comprising approximately 60 per cent of the overall staff, the ARRC is fully multinational in nature and organisation, with 15 partner nations contributing the remaining complement of personnel (Belgium, Canada, the Czech Republic, France, Denmark, Germany, Greece, Italy, the Netherlands, Norway, Poland, Portugal, Spain, Turkey and the United States).
Published 31 May 2012