News story
Army's unmanned air system regiment marks nine years of operations
Hundreds of people lined the streets of Salisbury in Wiltshire yesterday to cheer and applaud soldiers from 32 Regiment Royal Artillery (32 Regt RA) as they marched through the city.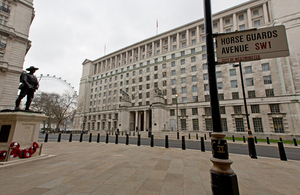 Known as the British Army's 'eye in the sky' because it operates the cutting-edge unmanned air systems, the regiment marked the end of almost nine years of continuous deployment for one or more of its batteries in Iraq and/or Afghanistan with a thanksgiving service in Salisbury Cathedral.
The 600 soldiers taking part in the homecoming parade included 120 men and women from 57 (Bhurtpore) Battery who returned from Afghanistan just five days before the parade, which means that November 2011 is the first time the regiment has been all together in the UK since early 2003.
Due to the Army now having another unmanned air systems unit deployed in Afghanistan, 32 Regt RA will have a temporary respite for six months.
The regiment, led by Commanding Officer Lieutenant Colonel Craig Palmer and accompanied by the Royal Artillery Band, was invited by Salisbury City Council to hold the homecoming parade.
The soldiers paid their compliments to the Mayor of Salisbury, Councillor John Abbott, the Lord-Lieutenant of Wiltshire, John Bush, and the Honorary Colonel of the Regiment, Major General Gerry Berragan.
Also attending the parade as a guest and friend of the regiment was 1966 football world cup winner, Sir Geoff Hurst.
During the last nine years 32 Regt RA has had the distinction of operating the Phoenix, Hermes 450 and Desert Hawk unmanned air systems in Iraq and Afghanistan.
These have been hugely effective assets in the British Army's arsenal, providing an organic airborne surveillance capability by beaming back real-time images and video both day and night so that troops on the ground can operate more safely.
Lt Col Palmer said:
Today was very special - it took a long time coming but the regiment certainly deserved it. I always knew I would be extremely proud, but as soon as we stepped off and I saw there must have been about a thousand people lining the streets, it was a wonderful moment to see all that support.
It has been a good day to reflect on a job well done over the last nine years.
Following the return of 57 Battery, the regiment now has a brief pause before the likelihood of sending another battery to Afghanistan in May 2012. We will catch our breath and concentrate on being a family regiment for the first time in almost nine years of continuous deployments.
We have already started training for the expected deployment in May 2012 and at this moment have soldiers in three separate continents conducting training.
We are very much looking forward to the rare chance of being a regiment, and the homecoming parade through Salisbury, together with the service of thanksgiving, was a pivotal part of putting the feel-good factor into the regimental family.
Published 11 November 2011