Army's Olympic gold medallist returns to work
Gold-medal-winning Army officer Captain Heather Stanning has completed her first week back in her military day job.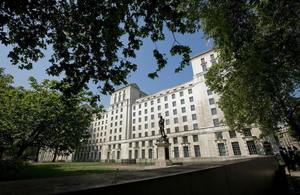 Capt Stanning, from 32 Regiment Royal Artillery (32 Regt RA), returned to her base in Larkhill, Wiltshire, earlier this week after her fantastic achievement of winning the first gold medal for Great Britain at the London 2012 Olympic Games, in the women's pairs rowing competition.
The 27-year-old was away from the Army for almost two years in her preparation for her Olympic bid. Capt Stanning and her rowing partner, Helen Glover, enjoyed fantastic support from the regiment who watched them go for gold on television in the mess at Roberts Barracks and thousands of miles away in Camp Bastion, Afghanistan.
Capt Stanning is now looking forward to her future career within the Army after securing Team GB's much-awaited first gold:
I joined the military for a host of reasons and they all remain very strong; I love the guys I work with and the Army has a fantastic group of individuals," she said.
Afghanistan
As yet Capt Stanning is unsure what path her career will follow and she will have a long conversation with her desk officer to see what job she will be doing and what the Army requires of her:
I spent 18 months as a troop commander and carried out a big exercise in Canada and I have never been on tour and there are lots of other things I have not done yet," said Capt Stanning.

Afghanistan is such a big part of my peer group in the Army and it is important to me to have exposure to that.
32 Regt RA has been based in the Wiltshire area for the past 18 years and is one of only two unmanned air system regiments in the British Army. It has had a battery permanently based overseas on operations since 2003.
Published 25 September 2012