Army's Foxhound fleet to grow
The Ministry of Defence has announced plans to procure 25 extra Foxhound vehicles to add to the Army's existing fleet.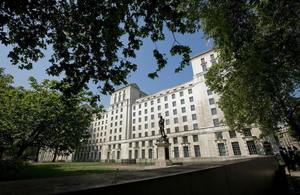 The MOD made an initial order for 200 Foxhound vehicles in November 2010 and a further 100 were requested late last year as part of a £400m package. The latest 25 will be in addition to this at a cost of £30m.
Foxhound, the Army's state-of-the-art light protected patrol vehicle, arrived in Helmand province in June of this year.
The Minister for Defence Equipment, Support and Technology, Peter Luff, made the procurement announcement today at an event at the Army's Bulford Camp showcasing the capabilities of Service personnel from 4th Mechanized Brigade who are preparing to deploy on Operation HERRICK 17.
Mr Luff said:
I was very pleased to be able to confirm the purchase of 25 additional new Foxhound vehicles.

Foxhound's cutting-edge technology gives our troops the ability to engage with Afghan civilians, as they must, whilst benefiting from a high level of protection. Personnel from 4th Mechanized Brigade will be amongst the first to use this outstanding new vehicle.

This is another example of how the MOD, having balanced the budget, is now able to confidently spend money on the equipment that our personnel really need.
Personnel from 4th Mechanized Brigade will be amongst the first to make use of the new Foxhound vehicle on operations. For its size and weight, Foxhound provides unprecedented levels of blast protection against the threats faced by troops on the front line.
Robust enough to withstand the blast from an IED, it has a top speed of 70mph (113km/h). The engine can also be removed and replaced in just 30 minutes and it can drive away from an ambush on only three wheels.
4th Mechanized Brigade will deploy to Afghanistan in October for a six-month tour as the lead formation of Task Force Helmand. Due to the significant progress in the development of the Afghan National Security Forces it will be the first brigade to oversee a drawdown of British troops from Helmand province, with the UK's military commitment there due to be cut by 500 by the end of the year.
The showcase at Bulford has enabled members of the Task Force to show off their skills, from marksmanship and search dog handling, through to the challenges of having to cook for thousands of soldiers, sailors and airmen and women on a daily basis.
Brigadier Bob Bruce, Commander of 4th Mechanized Brigade, said:
Today has enabled many of the men and women who will deploy on HERRICK 17 to showcase not only the high quality equipment with which they will deploy but also the result of the extensive pre-deployment training that they have conducted.

4th Mechanized Brigade previously deployed to Afghanistan in 2010, but a lot has changed since then. Now we are well down the path of transition - the handover of security responsibilities to our Afghan colleagues - and our strategic outlook is very different to what it was two years ago.

Notably, we will be the first Task Force to see our numbers reduce during the course of our tour, a big challenge but one we will embrace.
We are an experienced and well-balanced Task Force; while based on a regular Army formation we also have a number of regular Royal Navy and RAF Service personnel in our ranks, as well as a number of reservists who have readily volunteered their time to accompany us to the front line.
The tour will see 'The Black Rats', as 4th Mechanized Brigade is also known, working in support of the Afghan National Army's 3/215 Brigade and the Afghan National Police in their mission to bring security and stability to a region that has known years of unrest but has seen steady progress thanks to the efforts of Afghan, British and other international forces.
Approximately 10 per cent of the personnel who deploy on Op HERRICK 17 will be reservists, including elements of 6th Battalion The Royal Regiment of Scotland, 103 Battalion Royal Electrical and Mechanical Engineers, 243 (Wessex) Field Hospital and 101st (Northumbrian) Regiment Royal Artillery.
Mr Luff added:
I was delighted to have the opportunity to meet some of the members of 4th Mechanized Brigade who will deploy to Afghanistan in the autumn and will face an entirely new challenge.

They continue the work of their predecessor brigades and also oversee the beginning of our drawdown as Afghanistan looks ahead to a future with its own Armed Forces taking the security lead.
4th Mechanized Brigade will replace 12th Mechanized Brigade when they deploy on Op HERRICK 17 in October 2012.
Published 23 August 2012