Army signallers receive Afghanistan medals
Soldiers from the 7th Armoured Brigade Headquarters and Signal Squadron (207 Signal Squadron) have been presented with campaign medals after a demanding six-month tour in Afghanistan.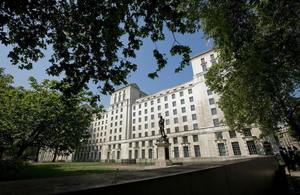 During the tour the soldiers provided vital communications support to the NATO-led mission to prepare the Afghans to fully take over the security of their own country.
The 39 soldiers of 207 Signal Squadron, which has a long and distinguished connection with the most famous brigade in the British Army - the Desert Rats, were based around Helmand province between March and October 2011.
Personnel were primarily involved in bolstering the communications squadron of 3 Commando Brigade Royal Marines and managing communications at forward operating bases and checkpoints, partnering members of the Afghan Army, and also taking on an infantry role going on patrols and manning sangars (guard watchtowers).
Communication Systems Operator Lance Corporal Ashley Wiles received his medal along with the rest of the squadron at a special ceremony at their Bergen-Hohne barracks in northern Germany. He said:
I was a communications advisor to the Afghan National Army, and accompanied an Afghan Army company as part of a team of seven British soldiers.
We helped them with general communications skills, setting up antennas, using radios, voice procedures etc. It was good and very interesting.
It was difficult to begin with and we had to overcome cultural differences and the language barrier. But it was a worthwhile tour. It's good to help people and to see them progress and develop throughout the six months.
207 Signal Squadron were instrumental in the operation and maintenance of vital specialist communications equipment such as mission-secret computer systems and Bowman radios.
Lance Corporal Wiles, who completed a range of training exercises in Germany, the UK, Kenya, Canada and the Czech Republic in the run up to his deployment, added:
I am proud of what we are doing out there. I enjoyed the tour a lot. I went out on patrols every day advising the Afghans - they would lead and we would follow. It's not about doing their job for them - it's about partnering them with them taking the lead.
I feel a great sense of pride at getting my medal; it is my first medal and I feel I have achieved something special. I will now spend my leave in the UK with friends and family.
The parade, which was watched by the families of the soldiers, was attended by Hohne Garrison Deputy Commander Colonel Paul Eaton, late Royal Corps of Signals, who presented the soldiers with their medals.
Addressing the soldiers during the ceremony, Colonel Eaton said:
It is a huge privilege to present the medals to the finest signal squadron in the British Army.
We are helping the Afghan National Army to take over security operations by building them up, and we are making real progress. You have seen that, you have been part of that, and have made a real difference. Your professionalism and flexibility sets an example for others to follow.
I also want to pay tribute to those who didn't deploy and stayed behind as part of the Rear Operations Group - you have done your bit for Queen and Country in supporting the squadron in Afghanistan and supporting the families at home.
I want to say a huge thank you to the families, you don't get a medal, but you should. Your dedication and support to your loved ones serving in Afghanistan is vital to their morale and vital to success.
Published 21 October 2011