Army signallers assist the flood relief effort in North Yorkshire
A hundred Army signallers joined the massive battle against the floods in the UK, assisting civilian agencies and communities in York and Cawood on Wednesday night and into the early hours of Thursday morning.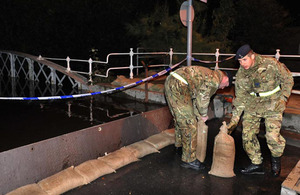 Thirty soldiers from 2nd Signal Regiment based in Fulford, York, filled and laid thousands of sandbags in Peckitt Street in York city centre in support of the emergency services, local authorities and other agencies.
Flood levels in the River Ouse rose and peaked on the morning of Thursday 27 September.
Another 70 soldiers were requested to assist the flood relief effort in Cawood, near Selby, where more than 4,000 sandbags were filled and laid overnight to bolster the existing flood defences:
We were working together with the other agencies near the Cawood swing bridge and 500 metres either side of it," said Major David Orr, who headed up the military team at the site.
There were quite a lot of properties at risk and also a pub - and you don't want to risk a pub flooding! The sandbags were already there in pallets and we placed them, but some of the locations were quite difficult to get to and, in some places, the lads carried the sandbags quite a distance.
For us, this was the last day of training before we deploy to Afghanistan and, after a year of training, this was something different. We very much enjoyed the opportunity to help the local community and they made us feel very welcome.
The regiment is due to deploy to Afghanistan for a six-month tour at the end of October. The soldiers will be working at several locations within Helmand province providing telecommunications, IT and secure communications:
We are very much part of the local community in North Yorkshire and were happy to join the effort as extra pairs of hands, helping out with the sandbagging at what has been a very difficult time," said Lieutenant Colonel Colin Vaudin, the Commanding Officer of 2nd Signal Regiment, which is based in Imphal Barracks.
The soldiers returned to barracks about 6am this morning [Thursday] and are now catching up on some well-earned sleep.
York's signallers also helped out during the floods in 2000 and were subsequently awarded the Freedom of the City of York.
Published 28 September 2012