Army reservist provides Olympics security at Eton Dorney
An Army reservist is one of a team of military personnel who has been carrying out personal, luggage and vehicle screening at Eton Dorney, one of the London 2012 Olympic venues.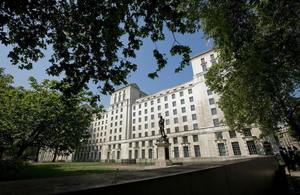 Private James Parker, who serves as a rifleman with F Company, 4th Battalion The Mercian Regiment, has been providing security at Eton Dorney which is where Army officer Captain Heather Stanning and her rowing partner Helen Glover won Team GB's first gold medals of this year's Games.
The Royal Navy's Lieutenant Peter Reed also rowed to victory there this year, picking up his second Olympic gold medal.
Up to 30,000 spectators per day are enjoying the events at Eton Dorney, with Service personnel assisting the major screening operation to check visitors in safely and quickly. This is one of numerous tasks for which they have undertaken extensive training.
Members of the UK's Armed Forces are performing a range of duties during the Olympic Games, utilising skills acquired during their military training and operational deployments. They have also undertaken Games-specific training with LOCOG (the London Organising Committee of the Olympic and Paralympic Games), the emergency services and G4S to ensure that they can fully support the security operation.
Private Parker said that being involved in the Games is a privilege:
It's great. The response has been overwhelming to be honest. People are so happy we are there to protect their safety and they are really glad we are part of the Games. Their comments have been so positive.
It's hard because of the early starts and long days but also rewarding and the teams commanding us and the organisation have been brilliant. We are given as much downtime as we can be spared and there is a really good atmosphere surrounding the events.
Before serving during London 2012, Private Parker was on operations in Helmand province in 2011 attached to 3rd Battalion The Mercian Regiment, carrying out ground-holding operations and reassurance patrols.
Of his experience he said:
The role of the Army Reserves has increased over the last 10 years as has our readiness for those sorts of deployments.

The training provided was brilliant and so was the system for coming back to our units. Helmand is obviously a dangerous place but we were fully prepared to deal with the challenges we faced.
His Army Reserves role also recently saw Private Parker taking part in the Muster Parade at Windsor as part of the Queen's Diamond Jubilee celebrations.
Published 10 August 2012