Army Reserves unit trials new initiative to get people into work
An Army Reserves transport unit is trialling a new initiative aimed at getting unemployed people into work.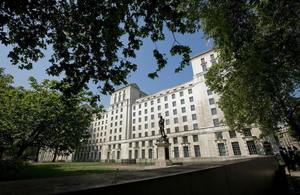 Partnering for Talent (PfT) is a joint initiative between the MOD, the Department for Work and Pensions, and private enterprise. The pilot scheme started last month (September) and aims to identify business benefits for employers who support reservists.
It includes the co-ordination of training opportunities as well as the sharing of talent, experience and qualifications.
Details of the scheme were highlighted to prospective employers and education services during an 'Employers' Day' hosted by 150 (Yorkshire) Transport Regiment Royal Logistic Corps (Volunteers) at the Prince William of Gloucester Barracks in Grantham, Lincolnshire.
A total of 26 organisations were represented, including emergency services, local employers and education agencies.
Visitors were given the opportunity to test their skills on the indoor shooting range, take a look at the vehicles used by the unit, see a practical demonstration of battlefield casualty drills, and enjoy a lunch cooked up by the field catering unit.
Organiser Major Richard Booker is the unit's Employment Support Officer based at the regimental headquarters in Londesborough Barracks, Hull. He explained:
Apart from highlighting the PfT scheme that is being trialled by 150 Regiment, the aim of the day was to showcase the unique skills that the Army Reserves can bring to employers.

Apart from their military training, the majority of reservist soldiers and officers specialise in a trade that has nothing to do with their jobs in 'Civvy Street'. It means that they have a lot more to offer than your average employee.
Major Booker continued:
Employers' Day was also an opportunity for education services - particularly those providing training for youngsters wanting a career in the Armed Forces - to show students what the Army Reserves has to offer them.
"We had a number of students join the unit after last year's Employers' Day, so it was extremely successful in that respect."
Greg Shaw, City and Holbeck Divisional Training Officer with West Yorkshire Police, said the emergency services benefited enormously from the skills gained from Army Reserves' training:
As an ex-soldier myself, I can see the benefits of employing both former regular and reserve personnel," he said. "They bring with them self-discipline, management skills and motivation, and we need to engage more closely with them than we do now to utilise the skills that the Army Reserves can bring to us.
Greg, who served with the Royal Corps of Transport in Germany in the 1980s, particularly enjoyed looking at the vehicles used today by 150 Transport Regiment. He said:
The kit they have now is incredible. It has come a long way since I last stuck my head under the bonnet!
Vicky Shakesby, Station Manager at Humberside Fire and Rescue Service in Grimsby, said there were a number of reservists within the Service, but she had no idea what they got up to in their spare time until her visit:
It really opened my eyes to the level of training that Army reservists undergo, and the value they can add to the Fire and Rescue Service," she said. "Regardless of their specialism within the Army Reserves, they are all - foremost - soldiers. I didn't realise how much investment was made in putting each individual through basic and leadership training.
Vicky added:
We now have to think in terms of what the Army Reserves can do for us. My colleague and I are now looking at ways of advancing the profile of the Army Reserves within the Fire and Rescue Service.
Ian Fraser is the Director of Quality Personal Development Ltd - a private company working in partnership with Hull City Council to provide education and training for students aged between 14 and 18 who would like a career in the Armed Forces.
Based at the Military and Sports Academy in Hull, the organisation has helped more than 200 young people to join the Regular Army and Army Reserves in the past five years.
Ian said:
We took students to the Employers' Day last year and all of those students have since joined the Army Reserves.

This time, we took six students, enabling them to see the work and professionalism of 150 Transport Regiment. It also provided an excellent opportunity to network with employers and people involved in the Services.
Councillor Steven Walker, who was instrumental in setting up the Armed Forces and Veterans' Charter in Kingston-upon-Hull, commented:
It was a great opportunity to see what the Reserves do, and the transferable skills they bring to employers.

It was a very successful day, and the regiment does a fantastic job when it comes to community engagement.
Councillor Walker, who is an adult instructor in the Humberside and South Yorkshire Army Cadet Force, added:
I'd encourage as many employers to get involved as possible because there is going to be a bigger emphasis on the Reserve Forces in the future, and we all need to work together to move forward.
Published 9 October 2012