Army Reserves regiment soars to new heights with Wildcat trials
Army Reserves ground crew were all set to soar to new heights as they tested out the Army's next-generation helicopter, the Wildcat, during their annual training exercise.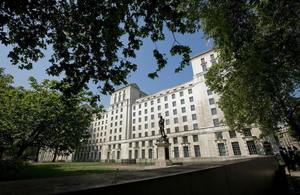 It was the Army's first opportunity to work with the helicopter which is due in service in 2014.
Commenting on his unit's chance to put the platform through its paces, the Commanding Officer of 6 Regiment Army Air Corps (Volunteers), Lieutenant Colonel Nigel Banks, said:
It is brilliant for us as a reserve unit to be the first to get up close and personal and work with the Wildcat. The Army of the future will rely more than ever on reserve soldiers deploying alongside their regular counterparts, something we have been doing since we were formed in 2006.

And I believe for a reserve unit to be the first Army unit to have this training opportunity reflects the importance of the Army Reserves, who will need to increase their numbers to meet the demands of the Army 2020 structure to reshape the Service.
The Government announced in July that the Army will have a greater reliance on reserve soldiers to integrate with the regular Army.
6 Regiment Army Air Corps (Volunteers) is based in Bury St Edmunds, Suffolk. Its role is to provide ground crew for Apache and Lynx helicopters as reinforcements to other Army Air Corps regiments, both on exercise and operations.
With the emergence of the Wildcat, which will replace the current Lynx helicopter, training will be targeted to encompass this new capability, and this exercise provided the reservists with the opportunity to learn about working with the new Wildcat and become familiar with its refuelling and resupply.
The Wildcat will perform a range of tasks on the battlefield including reconnaissance, transportation of troops and materiel, and the provision of force protection. It will be significantly more powerful than the current Lynx, enabling it to operate in extreme hot conditions and at high altitudes.
The name Wildcat originates from the Grumman F4F Wildcat fighter aircraft which was widely used during the Second World War. The aircraft ceased operational service in 1945. However, some of these aircraft remain, including one in the collection of the Imperial War Museum Duxford.
6 Regiment Army Air Corps (Volunteers) has two squadrons - HQ and 677 Squadron is based in Bury St Edmunds, and 655 Squadron is based at Middle Wallop in Hampshire. It also has detachments in Norwich, Swaffham and Ipswich.
Published 7 September 2012