News story
Army Reserves on exercise in Germany
Nearly 200 reservists of the Royal Logistic Corps (RLC) travelled to Germany for an action packed annual exercise.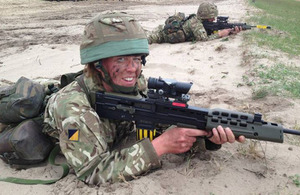 174 reservist soldiers from 159 Supply Regiment RLC deployed on Exercise Barbarian Storm - which included selection competitions and adventurous training - as part of their Annual Deployment Exercise (ADE).
The ADE had several working parts including an Operation Herrick (Afghanistan) selection Battle Camp, Operational Supply Training, support to Exercise Bavarian Charger, a Potential Non-Commissioned Officer (PNCO) Cadre course, Adventure Training in Bavaria, and special attachments for Adjutant General Corps personnel.
Together with recruitment, the commitment to generate a deployable troop represents the main effort of the Regiment, and part of the ADE saw a Battle Camp, aimed at determining those suitable and fit enough to go forward for final selection for operational deployment. Competition was fierce and every soldier put in the maximum effort during the demanding selection process.
Private Sonya Doddrell, aged 40, from 381 Medical Supply Squadron, based in Lancaster, was one of those seeking selection. She said:
I would be lying if I said I wasn't scared of what to expect, but I have learnt so much from the experience.
Exercise Rolling Thunder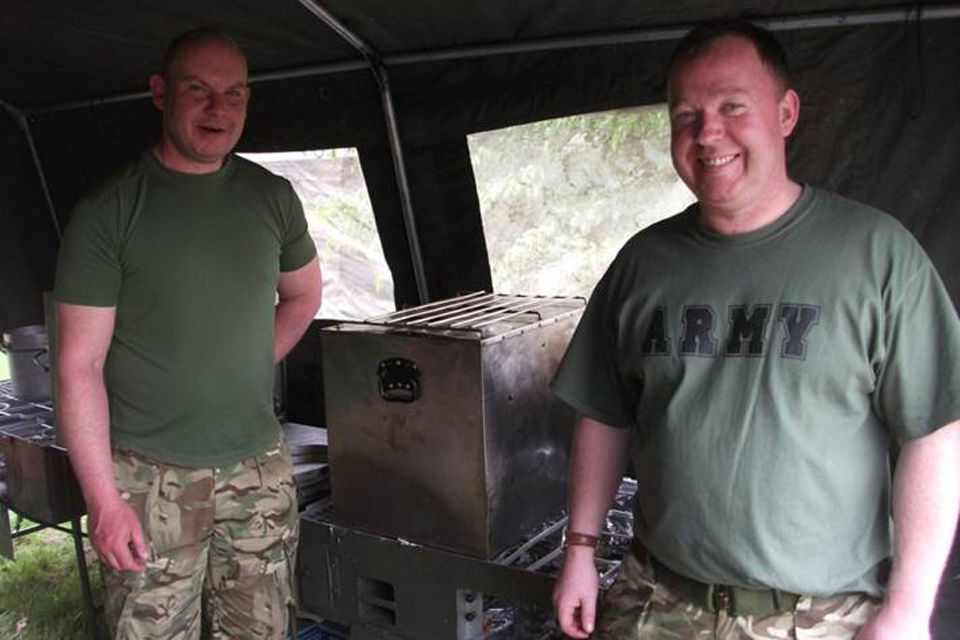 The continued development of the Regiment's Supplier capability was put to the test as part of Exercise Rolling Thunder, where 62 members of the Regiment were tested as part of a 102 Logistic Brigade troop-level exercise based at the Supply Training Facility in Princess Royal Barracks, Gutersloh.
During an intense 36 hours of training, soldiers were exercised on the supply procedures that they would undertake whilst deployed on operations.
Exercise Bavarian Charger
Meanwhile, the Regiment's drivers and Royal Electrical and Mechanical Engineers (REME) personnel deployed to southern Germany, joining 6 Regiment RLC on Exercise Bavarian Charger; presenting an opportunity for the drivers to practise their skills alongside their regular Army counterparts. Similarly, the REME were able to help keep the exercise running by undertaking real-time repair and recovery tasks, allowing the reservists to get hands-on experience in the jobs for which they are trained.
Lance Corporal Ian Swain, aged 26, REME, a civilian fitter by trade, was beaming at the opportunity to change the engine in a DROPS (Demountable Rack Offload and Pickup System) vehicle. He said:
I work on trucks every day, but it's great to have a go at one in field conditions and really get my hands dirty – big boys and their toys. It's great!
Potential Non-Commissioned Officer (PNCO) Cadre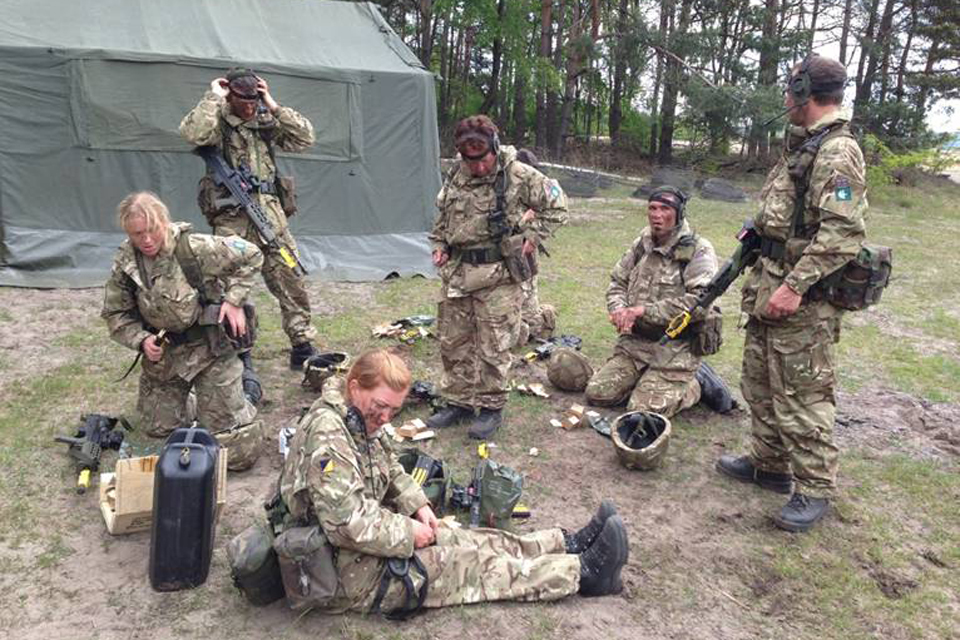 Fourteen reservists were selected to attend a Regimental PNCO Cadre, to see if they have what it takes to become Junior Non-Commissioned Officers (JNCOs). The Cadre includes classroom based instruction, practical exercises, command tasks and a 60-hour field exercise, during which the PNCOs' skills are thoroughly tested.
Private Aaron Dodds, aged 30, from 381 Medical Supply Squadron, was enthusiastic about the command tasks:
They were great fun," he said. "Really made us think and then work together as a team.
Once in the field, the PNCOs each had the opportunity to lead, take responsibility for others and as well as developing their leadership skills, the course helped to increase their self-confidence, teamwork and mutual support.
Private Michelle Mackay, aged 37, also from 381 Medical Supply Squadron, had just practised setting a trip flare for the first time. She said:
I've never done anything like this before, I was shaking like a leaf and really excited. I love it!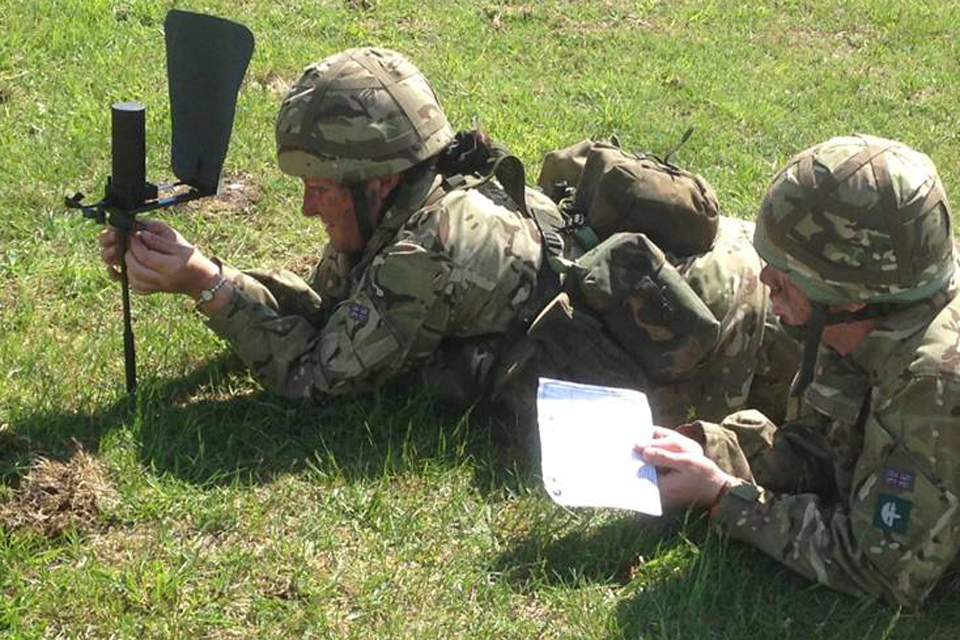 Adventure Training
In all over 70 members of the Regiment enjoyed their time at Drei Muhlen Lodge, located in Wertach, Bavaria, the focal point for two 1-week adventure training packages that included hill walking, mountain biking, rock climbing, abseiling and Klettersteig; which involves traversing exposed rock faces on wires, as opposed to scaling them. Originally designed to facilitate the movement of ammunition across mountainous terrain Klettersteig is, due to the constant need to hold on or maintain stress positions for extended periods, an extremely arduous sport even for the fittest of people.
The mountain biking was equally as arduous where, through a combination of cycling, pushing and carrying individuals had to get themselves and their cycles to the top of some very steep hills only to cycle down at breakneck speed.
Corporal Dawn Gibbs, aged 56, of 243 Headquarters Squadron, based in Coventry, said of her adventure training experience:
What a rush, it was amazing.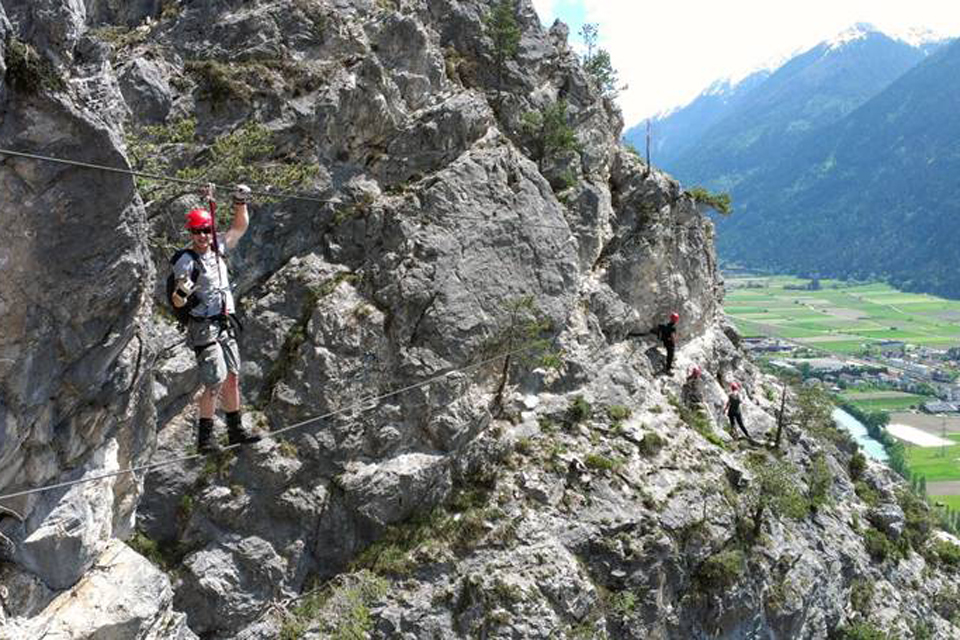 If you would like to learn more about a career with 159 Supply Regiment please contact one of their TA Centres, follow them on Twitter or find them on Facebook.
Royal Navy, Army and RAF Reserves are recruiting now for exciting new roles in Defence. There may be an opportunity for you - Find out how you can be a part of it.
Published 12 August 2013
Last updated 13 August 2013
+ show all updates
Added word "on" to headline to clarify that the reservists are not in fact doing star-jumps in Germany, for those who might be inclined to jump to that disastrous conclusion.
First published.