Army musicians presented with Afghanistan medals
Army musicians from Edinburgh's Dreghorn Barracks were presented with Afghanistan medals on Friday 30 March.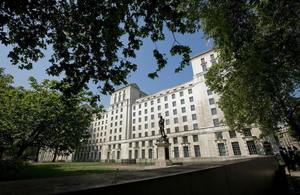 Sixteen members of The Band of The Royal Regiment of Scotland spent Christmas and New Year providing music for the Armed Forces based in Helmand province, at their Armistice Day and Christmas services, Burns Night celebrations and, at other times, simply to boost morale.
Army musicians are members of the Corps of Army Music, and all are trained soldiers.
They go through the same basic training as every one of their colleagues and undertake a variety of operational roles, including Hospital Administration, driving medical and security duties, as well as providing world-class military music.
Over the course of their stay in Afghanistan, they travelled to the furthest outposts of Helmand where British Troops are, and stayed in the most isolated patrol bases, to bring a touch of home to those stationed there.
They even spent New Year's Eve performing a concert in the Afghan Capital, Kabul, for the staff at NATO Headquarters of ISAF (International Security and Assistance Force) which commands all troops in Afghanistan.
They were presented with their campaign medals by Brigadier George Lowder, Commander of 51 Scottish Brigade, on the Parade Square at Dreghorn Barracks.
The music for the parade was provided by The Royal Artillery Band, and the Pipes and Drums of The Royal Scots Borderers, 1st Battalion The Royal Regiment of Scotland, a pleasant break for the musicians who would usually play for other units' medal parades.
Published 3 April 2012