Army lawyers on the front line
Since the conflict in Afghanistan began, operational lawyers from the Legal Services branch of the Army's Adjutant General's Corps have been travelling with brigades into all battle zones. Report by Sarah Goldthorpe.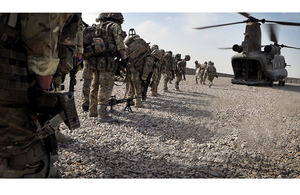 After embedding and training with their formations for 12 months, the 19-strong group of highly skilled barristers and solicitors deploy to the desert to give soldiers of all ranks impartial legal advice on any aspect of their work - from the obvious topics of rules of engagement, Geneva Conventions, criminal law and human rights, to the more surprising areas of environmental legislation and divorce.
Brigadier David Yates, who heads up the Legal Services branch, explained:
The whole ethos of the operational law branch is to look after troops while they are on ops, both in terms of what they can and can't do but also in relation to personal legal advice. But we are not in ivory towers, miles and miles from the front line.
By the lawyers' own admission, this is the best job they have ever had. Captain Ben Taylor returned from Lashkar Gah earlier this year, where he deployed alongside both 4th Mechanized Brigade and 16 Air Assault Brigade:
It was absolutely fascinating," he said. "From a legal perspective you get to see issues play out in front of you; your advice has a real and direct consequence.
On the reaction of personnel to his guidance, he said:
Soldiers usually have really good instincts so there are often discussions about whether they can act on that or not.

Where civilians are killed or injured, lawyers might work with soldiers to understand what happened.

I didn't see anything that indicated any of our people had acted outside the rules of engagement, but accidents happen and that's the nature of conflict.
Brigadier Yates admitted the role is not without its challenges:
When you are working in urban environments such as Iraq and Afghanistan, where it's difficult to distinguish between innocent civilians and the enemy, it becomes complex," he said.

There are times when fighting is pretty straightforward legally speaking, but peacekeeping and dealing with insurgency is more difficult.
Former criminal defence lawyer Major Helen Ellis added:
It's about getting people to respond to your advice and giving it a human touch. Telling people that something 'is just the rules' is not enough.
Major Stephanie Beazley said:
The job is fast-paced and high-pressured and can certainly create some colourful situations. But we must all be prepared to deploy as far forward as needed.
By throwing themselves into the mission in Afghanistan and sharing expertise with other military forces overseas, the Legal Services branch is upholding the British Army's reputation for quality and professionalism.
But its origins coincided with a period that was anything but proud.
The branch was in its infancy when the violent abuse of Baha Mousa by UK troops was brought to light in 2003.
Hoping to right the many wrongs of that scandal, and in reaction to burgeoning operational commitments, the Service recognised its soldiers needed stronger legal assistance.
Brigadier Yates, who twice gave evidence to the inquiry into the death of the Iraqi civilian, explained that a 'huge amount' has changed since then:
We got five additional posts in order to better address some issues coming out of that investigation," he said.

Even though the Army is reducing in size, this unit has actually grown.
British forces have never been under more legal scrutiny and that, coupled with individuals' increasing willingness to bring procedures against employers, means life is getting busier for these lawyers:
We currently have nine officers in Afghanistan, one in Italy in support of operations over Libya, and another working with the International Military Assistance Training Team in Sierra Leone," the senior officer added.

When the British Army has elements on standby for emergencies, we also have officers available to deal with those situations - for example in the event of chemical, biological, radiological and nuclear incidents.
The complexity of the role and the flexibility of the servicemen and women doing it means personnel can be assured they are operating well within all the relevant laws, rules and policies:
These professionals have to know their subject, be robust and unafraid to tell a senior officer what he should be doing," the Brigadier said.

You can have the greatest academic lawyer in the world but if they are not credible to a commander, they won't be listened to.
This article is taken from the November 2011 edition of SOLDIER - Magazine of the British Army.
Published 21 November 2011