Army Foundation College prepares future force
The Army Foundation College at Harrogate is building on its success to help train the leaders of the future. Report by Joe Clapson.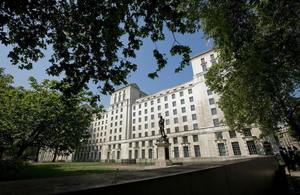 Think of 16- and 17-year-olds and you will probably conjure up images of part-time jobs, A-levels or time spent in front of the television. But, each year, for 1,350 boys and girls from that age range the final part of teenage life is spent entering the British Army via Harrogate's Army Foundation College (AFC) and becoming the Service's youngest personnel.
The dedicated group that made up Intake 23 recently completed their 42 weeks of initial training, passing out in front of a packed crowd of 5,000 loved ones.
Watching the largest military graduation in Europe, Captain Laurence Roche, Adjutant General's Corps (Educational Training Services), explained the role of the college and immediately dismissed any suggestion that it is an old-fashioned boot camp institution:
At Harrogate the students work on personal leadership, teamwork, command tasks and intuitive tests and are taught to think around problems," he explained.

A lot of people think coming here is about learning to accept orders but it's much more than that - it's about understanding orders, being a leader and learning to realise why we are in places like Afghanistan.
The college was founded in 1998 and the latest crop to graduate from its military classrooms left with the best educational results to date, boasting record achievement rates at NVQ standard:
About 20 per cent of each intake arrive without any formal qualifications, but, out of those, 50 per cent leave with an NVQ at Level 2," said Captain Roche. "It's all contextual and made relevant which, for some, school is not. Education is just another part of their training, just like doing drills and learning how to handle a rifle.
Recruits that sign up to the Army after their 18th birthday learn the required basic military skills in 18 intense weeks, whereas soldiers under training at the AFC are drilled in the same proficiencies for a whole year.
According to the college's commanding officer, Lieutenant Colonel Steve Ocock, such in-depth tutoring puts his junior soldiers at the top of the class:
I am passionate about this place because it really makes a difference," he said. "The most important thing we have on our side here is time and I think people that come through Harrogate have an advantage over those who just have basic training.

Our graduates should promote quicker and have better retention levels than 18-year-old recruits.
Junior soldiers at the AFC also have the chance to shine in fields outside basic soldiering, with the college offering opportunities to learn languages and musical instruments as well as producing numerous sports teams to compete across the world.
Despite the wide array of extracurricular activities on offer, the focus of the main task is not lost on the junior soldiers. Each member of the current intake was born after the Falklands conflict and the first Gulf War and was at school during Op TELIC, so they made conscious decisions to sign up to a life in the Forces knowing the kinetic climate of current operations.
Lieutenant Colonel Ocock said there was no skirting around the issue of Afghanistan and the reality of military service but insisted an Army career offers opportunities other jobs cannot:
We take our moral obligation very seriously and we teach soldiers about the trials that they will face in the future - there are no illusions about what they have signed up for," he said.

These 16- and 17-year-olds want to join the Army because it continues to offer the best possible career for a young person in terms of challenge, variety and the ability to be proud.
On 12 August 2010, following a morning of nervous laughter and frantic boot polishing, Intake 23 marched into position to finally finish its training at AFC Harrogate.
With the hairs standing to attention on every member of the packed audience, the gleaming band of the Royal Signals led the graduating recruits into position.
Every colour of the British Army was pristinely represented while The Princess Royal inspected the young men and women before they marched off to begin their careers as private soldiers. The next time these troops stand shoulder-to-shoulder might be on the battlefield and their next outing on a drill square could be for an Afghanistan homecoming parade.
Whatever step is next for these young servicemen and women, they take it having made the transition from schoolchildren to physically fit, disciplined and very proud soldiers.
This report by Joe Clapson first featured in the September 2010 issue of Soldier - Magazine of the British Army.
Published 8 September 2010