Army Education Officer talks about teaching in Afghanistan
An Army teacher from Northern Ireland is currently plying his trade in the heat and dust of Afghanistan.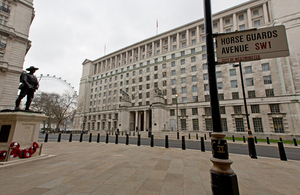 Lieutenant Andrew Young, aged 29, from Antrim, is the Education Officer for 1st Battalion The Royal Welsh, currently serving in Afghanistan on Operation HERRICK 16.
Lieutenant Young's job involves travelling out to the various locations around Helmand province and teaching classes of English and Maths for soldiers who need to gain qualifications in order to be promoted or as preparation for a life outside the forces. He said:
It's a varied and unpredictable job. One day you can be teaching in a place with flatscreen TVs and its own cafe, the next you can be out in the desert, sweating buckets, trying to explain fractions and ratios.

It's very rewarding, and it's good to give soldiers, many of whom have little or no formal qualifications, the chance to improve themselves.

The unit I am currently supporting is split amongst several main bases in very different parts of Afghanistan, from the desert to the 'Green Zone'. I travel between them in helicopters or on armoured convoys and set up a mini-classroom in each place.
As you might expect it's not always that simple to be a teacher in a country like Afghanistan:
In some places there is insurgent activity every day, in others you could go out of the front gate in a T-shirt it's so peaceful," continued Lieutenant Young.

A few times we've had to abandon lessons to take cover as fire fights have broken out just beyond the base walls. However, whilst we are mindful of the danger, the guys who have been here before say it's only a fraction of what it used to be.

The heat, which is unbearable at times, is the main problem. At one point the bunker where I was teaching reached 47 degrees Celsius. We had guys climbing into the turret of an armoured vehicle so that they could do their maths tests somewhere air-conditioned.
Speaking a little of the local Pashto language helps massively in bonding with the locals, and Lieutenant Young values having taken a course in it before deploying:
The Afghans are very similar to folks back home. They are kind and hospitable, with a tremendous sense of humour despite living through tough times. They like to talk as well, so if you start a conversation be prepared for the long haul.

My first experience of a 'shura' with the local elders was fascinating. Meeting these white-bearded men with huge turbans was surreal. They appreciated my attempt at speaking to them in their own language, even if my grammar is quite poor.

It is interesting to see them confront the challenges that they face in the future. Though it is peaceful in large areas of Helmand, ISAF troops are leaving by 2014, leaving local leaders in full control.

Making decisions here is a difficult process as they need to introduce changes without upsetting the local status quo - a tough job at the best of times in their very tribal culture.

I see a lot of parallels with Northern Ireland. Fifteen years ago people elsewhere would write off Northern Ireland, but, following the peace process, the place is completely transformed. I hope the Afghans get to enjoy the same benefits of peace in their country.
Published 27 September 2012